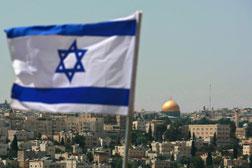 Palestinian youths clashed with Israeli forces on Tuesday—part of a continuing row over the Israeli Interior Ministry's plans to build new housing units in East Jerusalem. Cabinet Secretary Zvi Hauser defended the move against criticism from the United States and others, explaining that "Jerusalem is a big city. It is a city that has to grow." How do settlements actually get built, and who moves into them?
Real estate in East Jerusalem works much like it does elsewhere in the Jewish state. The vast majority of land throughout the country is technically public, with nearly 80 percent owned by the state. An additional 14 percent is owned by the Jewish National Fund but managed by a government agency, the Israel Land Administration. When the government opens land for development, as it has in East Jerusalem, it invites tenders. The successful bidder constructs and markets the new development. New tenants pay the private company but sign leases with the government. (If someone in Israel says they "own" property, it usually means they have a 49-year, renewable lease.) Any citizen, including Israeli Arabs, can sign a lease for a new East Jerusalem unit. So can Jewish foreign nationals entitled to immigrate under the Law of Return.   But noncitizen residents—a category that includes many Palestinians who live in East Jerusalem—are not eligible. *  
Like those entering any other real estate market, Israelis looking to sign leases in East Jerusalem have the location, cost, and character of their prospective developments in mind. There are upscale neighborhoods as well as low-income ones with large immigrant populations (often from the former Soviet Union). Ramat Shlomo, where the Interior Ministry just announced plans to build 1,600 new units, is ultra-Orthodox.
It's possible for the noncitizen residents of East Jerusalem to rent an apartment from someone who holds a lease with the government. There are a number of Palestinians, for example, in areas such as French Hill, and Neve Yaakov, who sublet from Israelis on short-term contracts. Due in part to the fact that noncitizens cannot sign leases, there is a housing crunch for Palestinians, and many resort to building without municipal approval.
Got a question about today's news? Ask the Explainer.
Explainer thanks Francesca Burke of Amnesty International, Ori Nir of Peace Now, and Daniel Seidemann of Ir Amim.
Correction, March 18, 2010: This article originally implied that all Palestinians who live in East Jerusalem are noncitizen residents. Some are citizens. (Return  to the corrected sentence.)
Become a fan of Slate  and the Explainer  on Facebook. Follow us on Twitter.
---