See a Magnum Photos gallery of Haiti as it was.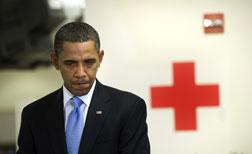 The American Red Cross has received more than $147 million in donations since the initial earthquake in Haiti, some of which is earmarked specifically for relief in that country. Even more cash will come in over the next few weeks. What do charities do with earmarked money if they receive more than they need?
They save it for later. Earmarks are often legally binding, which means charities have to make sure money goes where its donors want—a principle known as donor intent. Sometimes, though, a charity will receive more money for a particular cause than it can spend. For example, the International Federation of the Red Cross and Red Crescent Societies received more than $3 billion for tsunami relief in 2004, but still has about $500 million left over. Charities have the option of calling up their donors and asking permission to spend the money on something else. But few have the resources necessary for that. Instead, an organization will usually spend the leftover money on long-term relief—say, rebuilding towns hit by tsunamis for years into the future. Or if a donor earmarked a region but not a specific region-disaster pairing, they may set aside the money until there's a new crisis.
Charities encourage donors to be as flexible as possible. That way, if a group runs out of worthy causes in a particular region, it can then funnel the money to other areas in need, particularly those that get less publicity. Nevertheless, nonprofits make it easy to be choosy by offering potential donors a set of options. For example, the Red Cross allows contributors to donate to an international response fund for crises around the world, to a fund specifically for natural disasters, or to a pool designated for Haiti. Donors can also designate their money for "where the need is greatest," which leaves the decision up to the Red Cross itself. Another charity, Partners in Health, normally lets donors pick among a dozen or so programs, from Peru to Mexico to Rwanda. But their Haiti page urges donors to choose unrestricted gifts.
Donor intent became a major issue after Sept. 11, 2001, when the American Red Cross raised more money than it could spend and drew criticism for planning to use the extra cash to build up blood supplies rather than to help the victims' families. Before that, in 1998, the Red Cross had been accused of failing to spend millions that had been raised for flood victims.
Got a question about today's news? Ask the Explainer.
Become a fan of the Explainer on Facebook.
---