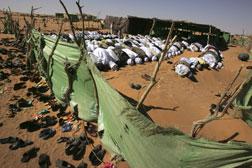 OURE CASSONI, Chad—Oure Cassoni refugee camp in northeast Chad is about as close to the end of the world as it gets. Arriving at the nearby airstrip, I spotted the one solitary tree bent against the driving desert wind. As I sat waiting for a ride, it disappeared intermittently behind a yellow haboob, a sandstorm. Nearby, Bahay village clings to the edge of a bleached-out sand dune, little more than a few metal shacks and a parched, white UNHCR office.
But far from being a forgotten outpost, this refugee camp is something of a nexus in the geopolitics of Darfur. Home to 27,000 refugees, most of whom have been here for more than five years, in the words of Victor Angelo, the U.N. special representative to Chad, it's also a "rest and recuperation facility" for rebels from the Justice and Equality Movement, who say they're fighting a war in Darfur.
Every few months, another journalist calls me from the bar of the Novotel hotel in N'Djamena, Chad's capital, asking for advice about what the European expat community has come to call the "JEM safari." It is possible to fly into Oure Cassoni camp, make a couple of contacts, and meet a bona fide turban-clad rebel within hours. My rendezvous with Abderahmane Banad, JEM's humanitarian coordinator, took place inside a mobile-phone shop in the camp's market.
Although JEM's higher-ranking officers are sensible enough to stay away, knowing their safety is at risk if their positions are known, lower cadres are often seen driving around in their distinctive black pickup trucks. Refugee women watch as the armed men cruise past, rocket-propelled grenades hanging like a spray of juggling clubs from the back of their vehicles. According to Banad, "They're just coming to buy food in the market or get their cars repaired."
But loyalties in this camp are complex. While no one enjoys the presence of guns in what is nominally a "humanitarian space," and many mothers told me they lament JEM's recruitment of child soldiers, the rebels and refugees are bound together. They're from the same ethnic group, the Zaghawa, and as long as many of the refugees feel they cannot return home, they look on the rebels as de facto protectors.
"We know that if we return to Sudan, the fighting is still going on—bombings by the army are happening all the time" says Izadine Kashir. Now 22, he's been living in the camp since he was a teenager. "We feel like no one can really protect us, so JEM being here is OK with me."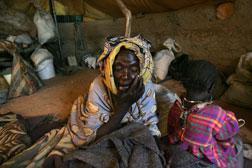 The UNHCR is pragmatic about the chances of return for most of the 260,000 Darfur refugees living in 12 camps in Chad. After all, on the other side of the border, JEM and other Sudanese rebel groups continue to attack Sudanese army positions, and Sudanese army planes strafe the refugees' homelands.
"Repatriation needs to be voluntary and carried out in safety, dignity, and sustainable conditions" says the UNHCR's Mans Nyberg. "This is clearly not possible—fighting continues in Darfur, and it's obvious we're looking at a prolonged situation"
In fact, JEM's presence in these Zaghawa desert heartlands is a reflection of a circular pattern of conflict in eastern Chad and Darfur, a factor that is sometimes overlooked in the search for a sustainable solution for refugees.
Early on in the Darfur conflict, President Idriss Déby of Chad found himself squeezed. For a while he held out against his Zaghawa kinsmen who wanted him to help JEM, because he wanted to preserve his relationship with Sudanese President Omar El-Bashir. In the end, he lost control, and JEM began to make a foothold in eastern Chad. As El-Bashir realized the growing threat, he became determined to take revenge, backing a motley collection of Chadian rebels who had few aims beyond knocking Déby out of office and getting their hands on Chad's not inconsiderable oil wealth. Fluid alliances were forged and broken, and loyalties betrayed—the current leader of the Chadian rebel Union of Resistance Forces is Timan Erdimi, himself a Zaghawa—and also Déby's nephew.
These dogged UFR rebels nearly had their day in February 2008, when they crossed more than 600 miles of Sahelian scrub in just two days. They raced their Toyota pickups almost unopposed into N'Djamena and reached less than half a mile from the presidential palace, where they began lobbing RPGs at the presidential guard. But disagreements over their leadership—and reported logistical and intelligence support from France—gave Déby an eleventh-hour reprieve, and the rebels were beaten back. The circle was completed as the Zaghawa JEM came to the assistance of their kinsman Déby and fought alongside the Chadian army as the UFR retreated eastward.
So, while Bashir has tried to exploit the Chadian rebels to reduce the threat of JEM, Déby continues to tolerate their presence in his territory, even when they're causing him harm. This intricate chess game, with a constantly shifting center, "benefits everyone except the refugees who wish to return home," according to a U.N. investigator working in eastern Chad.
Some progress is finally being made on the Chadian side. In May 2009, I travelled to the scene of the Am Dam battle, 60 miles south of Chad's second city Abéché. Among the smoking, black wreckage of pickups, dreadlocked child soldiers with gri gri protection amulets round their necks lay face down in the dust surrounded by oily, bubbled pools of dark blood. It was a disaster for the rebels. According to Hassaballah Soubiane, formerly of the UFR but who has now switched to Déby's side, the attack was directed by Sudan and not "in the interests of the Chadian people." Partly because Déby has acquired a lot of weapons over the last year (he bought most of them from Ukraine), it's now clear that the rebels are probably finished if they can't change their strategy.
In October, the Chadian government announced that Oure Cassoni camp will be moved away from the border. Although this alone will not completely strangle JEM's lifeline, it is a big symbolic gesture.
In diplomatic circles, hopes are slowly being raised that serious negotiations on Darfur can begin again involving Sudan, the Darfur rebels, and Chad, under the auspices of the Doha process, sponsored by the emir of Qatar. Déby has toned down his anti-Bashir rhetoric—for a while after Am Dam, banners saying, "Bashir the Big Traitor" were draped all over N'Djamena—which indicates that some rapprochement may be possible between the two people who possibly hold the key to peace in the border region.
But we've been here before—hopes were raised in 2006, when multiparty peace talks were held in Abuja, Nigeria. Too many vested interests and an unrealistic deadline rendered this agreement largely useless. Any attempt to resurrect peace talks must take the circular nature of the Darfur conflict into consideration—without some progress on democratic reform in Chad, the Chadian rebels, even if they are disunited, will always have the potential to wreck things, and refugees will never go home.
Back on the desolate border, most of the refugees are too concerned with finding enough firewood to question the motivations of those most able to help them.
"Of course we want to return home as soon as possible," says Hamza Hassan, a mother of four, as she stares blankly into the distance, "But we lost too much. Where will we go? It is not safe."
---