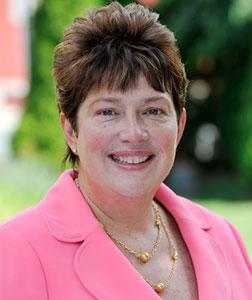 Odd-numbered election years are like panda bears: They take on special significance mainly because there are so few of them.
Hence the attention being paid to the 2009 races in Virginia, New Jersey, and New York, all of which are being imbued with national import. The Virginia governor's race is seen as a referendum on President Barack Obama, who last year swung the state blue for the first time since 1964. The New Jersey election is being interpreted as a response to the financial bailout, which Gov. Jon Corzine supported. And the special election in New York's 23rd Congressional District to replace Rep. John McHugh, Obama's new Army secretary, is being treated as battle for the soul of the Republican Party.
Overinterpreting off-year elections is a biennial tradition, and none of these elections has true national consequences. But the New York congressional race is especially ripe for overanalysis. There's conservative Democrat Bill Owens, who had to switch his party registration to run. The local Republican Party nominated Dede Scozzafava, a moderate assemblywoman who backs abortion rights and has voiced support for gay rights. And then there's Doug Hoffman, a runner-up for the GOP nomination who has now launched a third-party challenge as the nominee of the Conservative Party.
Seizing on the election as a bellwether, Republican leaders everywhere have been endorsing candidates right and, well, more right. Scozzafava has Newt Gingrich and Susan Collins. Hoffman has racked up Sarah Palin, Fred Thompson, Rick Santorum, Michelle Bachman, Steve Forbes, Gary Bauer, Dick Armey, and, after some hesitation, Tim Pawlenty. Michael Steele, head of the Republican National Committee, has been notably silent, neither speaking about the race nor directing any GOP money to Scozzafava's campaign.
Polls, while few and vague, paint an overall picture of Hoffman eating into Scozzafava's initial lead. The most recent survey, commissioned by the conservative Club for Growth (which has generously funded Hoffman's campaign), has Hoffman leading both other candidates by 7 points. Two polls before that, by Daily Kos and Siena, had Owens leading Scozzafava by 5 points and 4 points, respectively, with Hoffman trailing behind.
The fact is, no matter what happens, there's very little we can learn from this election. Here's a quick rundown of the inevitable interpretations in each victory scenario—and why they're wrong.
What it means if Owens wins:Obama can get anyone elected! The Democratic machine cranked into high gear for Owens. The Democratic Congressional Campaign Committee spent more than $420,000 on TV advertising in the region. Bill Clinton put his name on a fundraising e-mail. Obama held a fundraiser in New York City. An Owens victory would show that the Democratic brand has not taken significant damage in the past year.
Why that's wrong: An Owens victory would almost certainly show that Obama's appeal is limited to Obama himself. The district was long Republican until Obama won 52 percent of the vote in 2008. But Bill Owens is no Barack Obama, as he shows no signs of winning a majority of votes on Nov. 3. An Owens victory wouldn't mean that Obama has magically turned a red district permanently blue. Rather, it would mean that the conservative Hoffman had taken enough votes to keep moderate Scozzafava from winning—but not enough to win it himself. Assuming that Hoffman draws many of his votes from conservatives who are angry about the GOP's tepid response to a Democratic takeover, an Owens win wouldn't be a show of support for Democratic policies—it could plausibly be seen as a repudiation of them.
What it means if Scozzafava wins: Moderate Republicans are back!If Scozzafava pulls this off—and it's unlikely, given her declining numbers and ailing finances—it would be treated as a signal that RINOs win and that the GOP should run more moderates in 2010. Tea parties, the groups that have protested Obama's fiscal policies, would remain in the category of "vocal but ineffectual." And Michael Steele, who has declined to send cash to Scozzafava as he did to the failed New York congressional candidate Jim Tedisco during the special election in March, would have some answering to do.
Why that's wrong: New York's 23rd is where Republicans win. A Sozzafava win is no more an upset there than a Barney Frank victory in Massachusetts the year after Mitt Romney was voted in as governor. Nor would Hoffman's loss discredit the tea parties. As Republican districts go, this one is fairly moderate: It's only a "R+1" on Charlie Cook's Partisan Voting Index. Just because a moderate GOPer can win here doesn't mean she can do it in redder districts. Plus, tea parties may carry more weight in 2010, after another year of Democratic domination.
What it means if Hoffman wins.Tea partay! A Hoffman victory would mean vindication for all the conservative Republicans—including his endorsers—who have been arguing for a return to the GOP's core values, i.e., social and fiscal conservatism. The conclusion: Republicans made a terrible error in assuming that running moderate candidates is the only way to defeat Democrats in the Obama era. Instead, they should double down and run right-wingers anywhere they can. In the revolution of 2010, Hoffman's win would be the shot heard round the world.
Why that's wrong. There are 435 congressional districts. New York's 23rd is one of them. Yes, winning in a moderate area may signal a rightward drift in upstate New York. But it doesn't necessarily mean such a drift has occurred anywhere else. Moreover, Scozzafava has made some serious errors. Her fundraising has been weak, and the RNC's contributions nil. (Meanwhile, the Club for Growth has spent more than $250,000 backing Hoffman.) She has been widely mocked after calling the cops on a Weekly Standard reporter. And photos like this one suggest she has little in the way of image control. Finally, even if Hoffman wins, he almost certainly won't get a majority—most New Yorkers in the 23rd District will have voted for pro-life, pro-labor, pro-gay marriage candidates.
Think this is all knee-jerk contrarianism? Not necessarily. Call it anti-conclusivity. Despite the temptation in politics to extrapolate from a single race, there's little one can honestly say. We might learn a quite a bit about New York's 23rd District on Nov. 3. But we won't learn much about 2010.
---