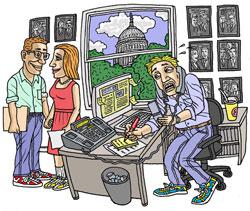 In Washington, only the executive branch takes a vacation. The legislative branch goes on recess.
The two terms used to be nearly synonymous. While members of Congress traditionally spend the month of August meeting with constituents, fact-finding in the Middle East, or freezing bundles of cash, they leave most of their staff behind. Recesson the Hill is thus a time for short skirts, long lunches, and happy hours that start at 4.
Not this year. Late Monday night, some congressional staffers were leaving their offices as late as 9 p.m., because when a divisive national issue (health care reform) meets planned legislative downtime (August recess), the divisive national issue wins. The battle over health care—waged in districts across the country by phone, television, e-mail, and town hall—has sucked up what's supposed to be a rejuvenating period between the first week of August and Labor Day.
It wasn't always this way. In past years, you might have stumbled across a hall party outside a member's office on a Friday afternoon, where staffers could greet the weekend with a brewski (paid for with nontaxpayer dollars, of course). Bars like the Pour House and Hawk and Dove would fill up as early as 5 p.m. One Democratic office may or may not have had a Wii that would get fired up for 18 holes of golf every afternoon.
But that was 2007. "There's no silliness this summer," says Brad Bauman, communications director for Rep. Tim Ryan of Ohio. "This year it's trench warfare—just without ties."
Still, even in the heat of battle, August is the most casual month. On a baking Tuesday morning, for example, staffers lined up outside the Longworth House Office Building looked more like a high-school lunch line than a congressional army. Jeans outnumbered suits. Sneakers outnumbered loafers. There seemed to be a strict ban on ties.
Most offices let staffers wear whatever they want. The office of Rep. Harry Teague of New Mexico, for instance, is denim-friendly. "When the congressman isn't here, we can wear jeans," one staffer told me when I poked my head in. Does he know about this flagrant abandonment of professionalism? "I think he knows," she said. The office of Rep. Joe Sestak of Pennsylvania runs a tighter ship—it's because he's a Navy officer, I was told. Staffers have to wear business attire, no matter the month.
With the lax dress code comes occasional lax behavior. Spend enough time wandering the halls of House and Senate buildings in August, and you're bound to witness the phenomenon best described as "recest." Two congressional staffers were spotted Tuesday in a back hallway locked in a passionate embrace, the gentleman gripping the lady's pearl necklace between his fingers and—NSFW—licking it aggressively. On being caught, the pair disbanded.
Office decorum can also slip. "August is when people start picking up hobbies," says a former Hill staffer. "You get e-mails like, 'I'm on Season 3 of Melrose Place!' "On Tuesday,I watched a Republican staffer in the Hart Senate Office Building check Facebook, write an e-mail, check Facebook, edit an official-looking document, and check Facebook.
And whether staffers admit it or not, the hours are shorter. The security guards at Longworth acknowledged as much. Some staffers trickle in as late as 11 a.m. and the exodus begins as early as 4 p.m. Lunches get longer, too—or, rather, lunches exist in the first place. The normally long line in the Senate cafeteria was gone Tuesday. Finding a seat—normally a struggle—was easy. The gift shop was even more deserted. "It's dead," said the cashier, who was polishing watches. They shortened the shop's hours for recess, but apparently not enough. "The time passes so slowly," she said.
At the same time, staffs shrink. Although a typical House office might have 11 people the rest of the year, it might dwindle to eight or four during August recess, when the member returns to his or her district. A Senate staff of 30 might get cut in half. Sometimes any staff whatsoever is hard to find. When I stopped by Tuesday, the office staff of Utah Rep. Jason Chaffetz consisted entirely of two interns. One was huddled in a fleece, writing a letter to a constituent about immigration reform. The other was nowhere in sight but did, I was told, exist. When I peeked into the office of Illinois Rep. Mark Steven Kirk, the front office was empty.
Where do the staffers go? Vacation, usually. Some offices have a rule that you can take vacation only during recess. Other staffers travel on congressional delegations, either within the country or abroad (although ethics rules make such trips less common).
Some shops, however, remain full steam. I dropped in on the office of Rep. Yvette Clarke of New York to find things bustling. When I told the staff I wanted to cover the August slowdown, one of them said, "You picked the wrong time to write that!" They were working full days, he said, till 7 or 8 p.m. If I were expecting floor hockey and ping-pong tournaments, another said, "You should try Cannon." (The Cannon House Office Building, that is.)
The activity level of an office during recess depends on a mix of factors. One is the member's electoral vulnerability: The safer the seat, the more relaxed the staff. It also depends whether it's an election year. Typically, August is a lot more hectic in even-numbered years than odd-numbered. Party matters, too: Democrats in the majority during the final Bush years had little reason to waste their Augusts drumming up legislation that would get vetoed.
Upending all August-related rules, however, is health care. Thanks to the Democrats' decision not to vote on health care reform until September, August has for many offices been a "recess" in name only. Members are touring their districts, meeting with local leaders and holding town halls—a routine that often requires just as much energy from the Washington staff as when Congress is in session. "There's a perception that when the cat's away the mice will play," says one Democratic staffer. "But that doesn't really happen."
Really, when the cat's away, the mice answer crazy phone calls. Normally the call volume goes down in August. This year, it's up. A lot of calls are generated by interest groups or robo calls related to health care reform. For example, a constituent might get a call at home saying, "Dial 1 if you want to stop socialized medicine," which then forwards them to their congressman's office.
Paul Tencher, communications director for Rep. Mary Jo Kilroy of Ohio, says he knows when a new robocall campaign is launched—the phones start ringing off the hook. "The rings get closer and closer together," he says. "It's like contractions."
What happens next depends on the identity of the caller. First, the staffer makes sure it's a constituent. If they're not from the district, he refers to them to their congressman. If they want to talk to a legislative assistant about a particular issue, they can generally get through. Often, they want to talk to the member of Congress; some members are more amenable than others.
Different offices have different philosophies for handling crazies. Some simply take a message. "It's not our job to give an opinion," says Tencher. "Our job is to hear their opinion and pass it on to the congresswoman." Others are more confrontational.Assistants to Rep. Barney Frank, for example, are allowed to push back when they field angry calls. The result can be a full blown argument between the caller and the intern or staffer. Frank can afford such a combative style—and staffers often take their cues from him—because he represents a safe district in Massachusetts.
All of which raises the question: For Congress, is August becoming just another month? Not quite, say staffers. This August is busier than most, they say, but the rest of the year is still worse. After August, says one, "It goes from stress to shock." When their bosses return next month, the public servants serving the public servants of the 111th Congress need to be prepared for even longer days and nights. And they'll need to wear proper pants.
---