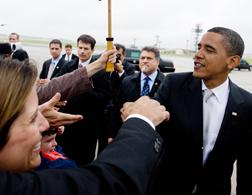 Click here for a guide to following the health care reform story online.
On July 23, President Obama visited the Cleveland Clinic. In a press conference the night before, Obama explained that he was visiting the hospital "to show why their system works so well. And part of the reason it works well is because they've set up a system where patient care is the No. 1 concern, not bureaucracy, what forms have to be filled out, what do we get reimbursed for." After his tour, Obama said at a town hall meeting in Shaker Heights, Ohio, "Here is the remarkable thing. They actually have some of the lowest costs for the best care."
The principal reason the Cleveland Clinic (and the Mayo Clinic, which Obama has also praised) is able to deliver high-quality care more cheaply than other similarly prestigious hospitals is that its doctors are not independent contractors who get paid for performing individual procedures. As the clinic explained in a press release about the visit, "Cleveland Clinic's physicians are paid a salary only. There are no bonuses or other financial incentives for the number [of] procedures performed or the number of patients seen. Every physician has a one-year contract and renewal is based upon the results of an annual performance review." Obama didn't mention this in his official remarks either before or after the visit. Partly that was to avoid alienating the American Medical Association, which has endorsed the House version of health care reform. Mainly, though, it was because health care reform would do almost nothing to dismantle fee-for-service medicine.
The salaried "group practice" model for physician care is not a recent innovation. As sociologist Paul Starr relates in his book The Social Transformation of American Medicine, it was developed in the 1880s by William and Charles Mayo, who considered themselves practical-minded professionals, not social reformers. Group practices evolved principally in the Midwest and West, Starr speculates, "due to the lag in development of laboratory and hospital facilities in middle-sized cities after the need for those services had already been recognized." Practically from the start, the AMA saw group practices as a threat to physicians' economic independence; a 1921 editorial in the AMA Journal fretted, "Does it mean that the family physician is being replaced by a corporation?" As hospitals and laboratories proliferated throughout the country in the 1920s, doctors found it less necessary to band together to create facilities of their own, and fee-for-service medicine once again became dominant.
Writing in the Wall Street Journal, Vanessa Fuhrmans notes that "the multispecialty clinic model isn't easy to replicate widely" because doctors want to maximize their incomes and avoid close supervision from employers. The task therefore falls to government. When I asked a congressional aide working on health reform how the House health reform bill would discourage fee-for-service medicine, he gave a handful of desultory examples. Section 1301 of the bill establishes a Medicare pilot program to create "Accountable Care Organizations" in which physicians and nurse practitioners are incentivized to band together to provide coordinated care by the promise of a share in the cost savings. But these ACOs needn't pay physicians on a salaried basis. Section 1152 establishes a second Medicare pilot program to promote "bundling," or the payment of a single fee for a single procedure that is then divided up by physicians and the hospital, for "post-acute care" (i.e., rehabilitation). Such an arrangement may be more easily met by organizations that pay doctors salaries, but it's hardly confined to them. The aide's other examples bear an even more attenuated connection to reducing fee-for-service medicine, offering incentives to providers who merely improve productivity or enhance "quality." The Senate health committee's bill is similarly vague (based on its section-by-section summary; more than a week after the bill's passage in committee, the text remains unavailable). Grants will support "Community Health Teams" and "medication management services" whose economic structure goes undefined.
Quite apart from the political clout of the American Medical Association, the government is inhibited in controlling how doctors are compensated by the blunt reality that most of the medical economy remains in private hands. Medicare is the feds' principal lever, and although Medicare certainly can spend money wastefully (a point underscored by Atul Gawande in the most widely cited magazine article  in human history), it has been documented time and again that private insurance is much costlier, much less efficient, and much less able to boss doctors around. Altering fee structures in any meaningful way therefore requires expanding government's role in the medical economy beyond anything contemplated in the various health reform bills.
The same goes for health reform's much-touted changes to medical "delivery systems" in general. These are mostly cosmetic. The part of health reform that has the greatest potential to alter how doctors and hospitals behave is the "public option" provision included in the House and Senate health committee bills (and likely to be omitted from the forthcoming Senate finance committee bill), for the simple reason that it's the only part of these bills that would increase government's share of medical spending—a point its promoters are loath to point out for fear of being labeled socialists. In its present proposed form, the public option would be available to far too small a population to alter market behavior significantly. But once established, it will likely grow, because voters will clamor to be let in. The more doctors get paid by the government, the more the government will be able to dictate how they get paid. That's bad news for doctors and good news for everybody else.
---