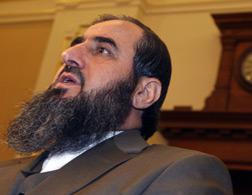 Heavy breathing has commenced at NBC News, which has scheduled July broadcasts for the first two episodes of its new TV series about chasing international war criminals and terrorists. According to an NBC press release, the show is now titled The Wanted. The series attracted my interest, the interest of the New York Times, and that of other news organization earlier this year after the show's crew confronted Leopold Munyakazi, a visiting professor of French at Goucher College, and asked him to respond to charges of genocide leveled against him in his native Rwanda. The heavy-handed bushwhacking of Munyakazi, whom Human Rights Watch senior adviser Alison Des Forges defended as unjustly accused, struck me as a desperate attempt by NBC to expand its cheesy To Catch a Predator reality-show franchise.
The first episode of The Wanted,about Mullah Krekar, will air July 20. An NBC press release bills it as "a groundbreaking television event" that "sets forth on an international hunt for an accused terrorist." In the next paragraph of the release, David Corvo, executive producer at NBC News, says he wants the series to illuminate an overlooked story. "It is surprising how many people with serious accusations against them are living openly and avoiding any sort of judicial process," Corvo says.
But if the subject of The Wanted's firstinvestigation is "living openly," which seems to be the case, NBC News hasn't conducted much of an "international hunt."
Krekar, a radical Islamist, supporter of Osama Bin Laden, and founder-leader of Ansar Al Islam, currently resides in Norway. The United States has charged him with financing and directing insurgent attacks on American troops in Iraq. Krekar has been banned from Norway as a threat to the country's national security, but as of the most recent report, the Norwegians couldn't bring themselves to deport him for fear he'll be executed if sent back to Iraq.
The NBC release brags about the NBC team stalking Krekar's world: "In The Wanted, viewers will be taken inside intelligence briefings in the Middle East and surveillance operations in Krekar's community in Oslo." This sounds exciting, but it reeks of over-dramatization. Krekar consented to an in-person interview with Newsweek's Mark Hosenball in autumn 2003, allowing the reporter into his Oslo home. Hosenball confronted Krekar without the assistance of a former Navy Seal, a counterinsurgency expert, or a former U.S. intelligence official—just a few members of the posse that backs up The Wanted reporters.
The July 27 episode of The Wanted "will travel to Germany on the trail of Mamoun Darkazanli," promises the release. Darkazanli is suspected of giving al-Qaida financial and logistical support in connection with 9/11. "While the team surveils Darkazanli, negotiations for his deportation begin between Spain and Germany," the release continues. This, too, sounds incendiary, but Darkazanli isn't much more of a fugitive than Krekar. In a 2007 PBS documentary, Hosenball and his Newsweek reporting partner, Michael Isikoff, visited Darkazanli's door with a film crew to request an interview without any hoopla. Darkazanli declined the invitation to speak.
If The Wanted turns out to be a brilliant television show, I'll eat my words. But right now the program looks like an exploitative exercise in throwing a spotlight on what's in plain sight and calling it investigative reporting.
*******
No word yet if Leopold Munyakazi will be featured in a future episode of The Wanted. Speak to me at slate.pressbox@gmail.com and listen at my Twitter feed. (E-mail may be quoted by name in "The Fray," Slate's readers' forum; in a future article; or elsewhere unless the writer stipulates otherwise. Permanent disclosure: Slate is owned by the Washington Post Co.)
Track my errors: This hand-built RSS feed will ring every time Slate runs a "Press Box" correction. For e-mail notification of errors in this specific column, type the word Infotainment in the subject head of an e-mail message, and send it to slate.pressbox@gmail.com.
---