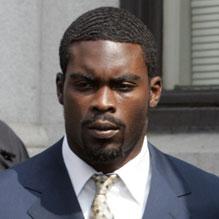 On Thursday, ESPN reported that NFL Commissioner Roger Goodell will likely reinstate Michael Vick in the coming days. (Reports also indicate that Vick might have to serve a four-to-six-game suspension before he returns.) The former Atlanta Falcons quarterback, who recently completed a 23-month sentence for his involvement in a dogfighting ring, has now been out of professional football for three years. Back in 2007, Peter Keating looked at other athletes who've been sidelined midcareer and wondered whether Vick would retain his skills after spending so much time in the slammer. The original piece is reprinted below.
In just eight months, about the amount of time it takes the BALCO grand jury to order lunch, federal authorities busted Michael Vick for helping run a dogfighting ring, extracted a plea from him, and delivered him to U.S. District Court Judge Henry Hudson. On Monday, the judge sentenced Vick to 23 months in prison. Now, sports fans can move on to the topics we really care about. Not the plight of the dogs, naturally, nor the question of whether Vick is a psychopath or a hunting aficionado gone somewhat overboard. Rather, when will Vick play again in the NFL? And will he be any good?
Vick fans are already noting that since he began serving his sentence before Thanksgiving, and good behavior can shave 15 percent off a federal sentence, he could be a free man by the time training camps open in the summer of 2009. There are a couple of big problems with that scenario. Vick still faces state felony charges in Virginia, where he could get up to 10 more years in prison and there is no possibility for parole. (He will stand trial in Surry Circuit Court next April.) Moreover, NFL Commissioner Roger Goodell may be in no mood to let Vick play again. Under the league's personal conduct policy, just consorting with gamblers can earn a player a lifetime ban from the NFL. Remember that Vick has admitted not only that he helped kill six to eight pit bulls, but that he provided money for betting on dogfights.
Let's assume, though, that Vick walks sooner rather than later and that the commissioner doesn't stand in his way. Despite all the current talk about how Vick has wrecked the Falcons, and what a PR nightmare it would be to have him around again, and how nobody would want to entrust their team to a dog killer, it's a sure bet that some NFL franchise will give him a chance. Vick's combination of arm strength and running ability—the talents that media types like to roll into the loathsomely all-purpose word athleticism—are a package the world hadn't seen before he arrived. Athletes at the extreme right end of the talent distribution curve never run out of chances.
But Michael Vick will be at least 29 when he leaves federal prison in Warsaw, Va. And the NFL is too fast, too precise, and too violent for a past-prime body and an out-of-practice mind to pick up where they left off after an absence of two (or more) seasons.
Vick's 23-month sentence puts him in an unusual category. Most players who commit crimes skip serious jail time, unless their acts are horrific enough that they're sent away for so long that they have no hope of returning. There aren't too many prison terms for athletes falling in between those served by, say, Jamal Lewis (four offseason months for trying to set up a cocaine deal) and Rae Carruth (18 to 24 years for conspiracy to murder his pregnant girlfriend).
A few athletes, in football and other sports, have missed enough playing time for it to be disruptive to their lives but not enough to wreck their careers immediately. (I'm not considering guys like Jim Palmer, Bjorn Borg, and Mark Spitz, whose comebacks were more stunt than career revival.) Almost none made successful comebacks. The great exceptions: Muhammad Ali, who lost three peak years to legal battles after refusing induction into the Army in 1967 and then came back as good as ever, and Michael Jordan, who dabbled in baseball for a year and a half before returning to dominate the NBA in 1995. But if you're not one of the two greatest athletes of the last century, history says that you'll likely lose a step if you sit out a year. Miss any more time, and you'll lose your job.
Ricky Williams led the NFL in rushing in 2002. A positive test for marijuana and a burning desire to study something called Ayurveda led him to retire for the first time in 2004. He came back in 2005 and ran for 743 yards. After another flunked drug test sent him to the CFL in 2006, Williams returned to the Dolphins in the middle of this season. He rushed six times against Pittsburgh last month, then hobbled away injured.
Cornerback Dale Carter, who made four Pro Bowls in the '90s, was suspended for the entire 2000 season after missing drug tests. In 2002, he managed to land a seven-year, $28 million contract with the Saints but was suspended again soon afterward and played in only 29 more games. Paul Hornung, a great short-yardage running back for the old Packers, averaged 4.5 yards per carry from 1957 to 1962. Then the NFL suspended him (along with Alex Karras of the Lions) for a year for betting on games and associating with gamblers. In the three seasons after Hornung came back, he rushed for just 3.4 yards a carry.
It's much the same in other sports. Ryne Sandberg, a baseball Hall of Famer based on what he accomplished before he retired in 1994, was a below-average player when he returned to the Cubs in 1996 and 1997. Mike Tyson wasn't the same after he got out of prison.
There were failed comebacks in the early days of pro sports, too. Home Run Baker, underappreciated today as one of the greatest third-basemen of all time, left the major leagues twice, once in 1915 over a salary dispute and again in 1920 when his wife and daughter contracted scarlet fever. Each time he returned after a year off to play with the Yankees; he was an effective but no longer dominant hitter from 1916 to 1919 and wasn't much good from 1921 to 1922.
Of course, many players lose entire seasons to injury and come back strong. But someone like Francisco Liriano—the Twins phenom returning this year from Tommy John surgery—or Greg Oden—the Blazers rookie now recovering from microfracture surgery—can focus his entire life on rehabbing and will enjoy state-of-the-art facilities while he does so. Prison may let Michael Vick build discipline, but it will rob him of the chance to practice with and perfect his timing against the best football players in the world.
And not to kick a man when he's down, but while Vick is in jail, his skills will be diminishing from a level that wasn't as high as many people believed. On New Year's Day 2003, when Vick took the Falcons to Green Bay and upset the Packers in the playoffs, it was easy to believe he would soon explode into greatness. Instead, that game was his peak moment.
Vick made three Pro Bowls from 2002 to 2005 and even drew one MVP vote in 2004, the year Peyton Manning threw for a record 49 touchdowns. But beyond his ability to dazzle, he has completed only 53.8 percent of his pass attempts and averaged just 6.7 yards per pass attempt over his career. His career high in touchdowns is 20 (24 including rushing TDs). Vick has paved the way for a new generation of mobile quarterbacks in the NFL. But if you turn each of his stats down a notch, you get Kordell Stewart.
Vick will be older and thicker in 2009, and the league will be bigger and faster. It's probably a good idea for him to get some job training while he's in prison. Either that, or he could declare for the United Football League draft.
---