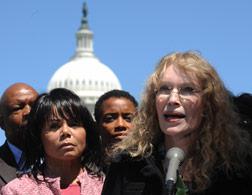 Members of the Congressional Black Caucus gathered near the Capitol building Tuesday to announce that starting right now, they will begin fasting for Darfur. But, just to make sure no one gets hurt, they will take turns.
This serial fasting is not to be confused with a hunger strike. A hunger strike has an all-too-real deadline. It expires when your demands are met … or when you do. Sometimes it works, as in the case of Gandhi. Sometimes it does not, as IRA member Bobby Sands would tell you if he were alive.
The caucus's protest is a temporary fast. Fifteen members will stop eating for one day each, starting with Rep. Barbara Lee on Tuesday night. They can fast for longer, if they want. But the point is not to drop dead on the House floor. It's to call attention to the declining humanitarian situation in Darfur—President Omar al-Bashir recently kicked aid agencies out of the country—and to pressure President Obama to fulfill his campaign promise and intervene to stop the genocide. When Congress returns from its recess in June, they will ask the rest of their colleagues to join them.
Whether they get anyone else to join their fast remains to be seen. But they will have no trouble getting other members of Congress—and the administration—to agree on what needs to be done in Darfur. Among their demands: Return the Darfuri people to their homes. Make sure humanitarian workers are allowed back into the country with the resources they need. Maintain sanctions against Sudan. And above all, try al-Bashir for war crimes at The Hague.
But agreeing about what needs to be done is not the same as actually doing something. The question is whether fasting will change the calculus that for six years has failed to yield much progress.
The press conference included several experienced fasters. Actress Mia Farrow showed up looking even more trim than usual. Farrow started fasting in April, but had to stop after 12 days due to health concerns. (Billionaire Virgin founder Sir Richard Branson took up where she left off.)
As Farrow pointed out, fasting is easier said than done. "I thought first, 'Oh I'll do three weeks,' " she told me. "Well, I had no idea of the toll on your body. Then I thought I'll do 16 days, one for each of the expelled humanitarian aid agencies. I didn't make it to 16 days. My blood sugar dropped to 30, and anything below 60 is really serious."
Also representing was activist Marcia Dyson, who was currently 19 days into a 21-day fast. "I'm really fine," said Dyson. "I feel good." Except for the occasional long blink, she did seem pretty energetic. For nearly three weeks, she has been on a water-only diet. She does take vitamins every other day, and she just started taking two tablespoons of Omega 3 oil a day. Sometimes she'll pop a ginger lozenge to keep her blood sugar normal. And, of course, there are the enemas. "I call it water ablution, for all the deposits that would normally accumulate in my intestines."
But otherwise, it's easy. "It's not a countdown in the deterioration of my body, but a count up in the relationship I have with God to inform me about the active work I should do," she said. (Farrow seemed dubious: "She must be having something," she said.)
Wouldn't Congress deliver a stronger message if members fasted longer? "I don't think anyone is suggesting our members of Congress do more than one day," Farrow told me. "They need to be functional. We don't want to have them out of the running. I couldn't have cast a vote, I'll tell you. … I could barely get out of my bed after the first week. I think we want our legislators to be a little more spiffy." Dyson had a more poetic take: "The Congressional Black Caucus is a body. So if collectively they go for 21 days, and split it up among 21 members, then that is a fast."
Some members are stepping it up a notch. Rep. Donald Payne of New Jersey fasted for three days last week, starting Sunday. "Probably the toughest day was to sit through the Wednesday meeting of our Congressional Black Caucus," he said. "I'm gonna start with 24 hours," said Rep. Barbara Lee. "We want this to continue, we want the drumbeat to continue for the people of Darfur."
The first step is to get face time with Obama. "We must meet with the president of the United States as soon as possible, today or tomorrow," said Rep. John Conyers. During the 2008 campaign, Obama was vocal about ending the genocide. But since taking office, he has been silent. Farrow read aloud two Obama quotes from the campaign in which he condemned the genocide. "Where is his quote in 2009?" she asked. Part of the reason may be simple priorities—Obama faces two wars and an economic crisis. But Obama also needs to factor in the United States' delicate relationship with China, Sudan's primary investor, as well as the Arab world, given the role of African Arabs in the genocide.
The White House did not say whether Obama would be meeting with Conyers. If they do, maybe it can be over lunch.
---