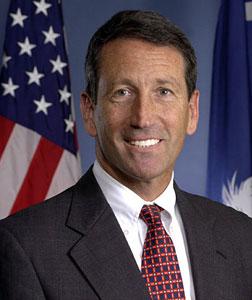 Bipartisanship is hard, but it's even harder before your morning coffee. Perhaps that's why the Democratic and Republican governors who gathered in Washington for the annual meeting of the National Governors Association broke their respective fasts separately Monday morning.
While Democratic governors munched on eggs and sausage and sipped coffee at the JW Marriott Hotel, Republican governors skipped across the street to the Ronald Reagan Building for a closed-door breakfast at which the govs, along with staffers and lobbyists, schmoozed over quiche, ham-and-cheese croissants, and cinnamon buns.
Only a handful of governors actually showed. (Some may have been recovering from Sunday night's Earth, Wind, and Fire concert.) Mark Sanford of South Carolina, fresh off his declaration that he will, in fact, reject some stimulus funds (not to mention his comparison of the new administration to Stalin), chatted up a group of investors while Rick Perry of Texas held court in the corner of the room. C.L. "Butch" Otter of Idaho made the rounds with his right arm in a cast. "Horse-riding accident," he told me. The governors of Guam and Puerto Rico also made appearances.
Among them milled representatives from corporations including Bank of America, Exxon Mobil, Wyeth Pharmaceuticals, and Biltmore Capital Group, as well as less GOP-friendly interest groups such as the SEIU. Even a guy from Apple was there. (Apparently, Perry is a big Mac fan.) A few heavy hitters put in face time, too—including investor Foster Friess and Lee Cowen, a senior vice president at lobbying giant Dutko Worldwide.
After half an hour or so, Gov. Luis Fortuño of Puerto Rico made his way to the podium. "When the Democrats are in power," he said, "it's the Republican Party's responsibility to show them how to lead." Exhibits A and B, he said: Bob McDonnell and Chris Christie, Republican candidates for governor in Virginia and New Jersey, respectively. Fortuño called these the party's "big races" for 2009 and urged everyone to support them. (The RGA hasn't officially endorsed Christie—it's just pretending there isn't a primary.)
Next up: Linda Lingle, governor of Hawaii. According to Lingle, the crucial issues the GOP faces are redistricting in 2010 and the Employee Free Choice Act. "As you know, card check would take away the secret ballot election," she said. "It's not good for America, and it's not good for business," she added. ("She's wrong about the facts," the SEIU rep told me later.)
Lingle then turned to the donors in the room. "For those of you who gave to both sides," she said, "that's not gonna cut it. That just makes everything equal. And if you want everything equal, you're gonna have card check." Giving to both parties might be your company's policy, she said. But "perhaps it's time to re-examine that and think about the country in the long term. … It's time for a little introspection."
After an hour, the governors shuttled off to the White House for a meeting with their Democratic colleagues and President Obama—who told them, in so many words, that crass partisanship is not gonna cut it.
---