Here are the headlines from the first official White House briefing by press secretary Robert Gibbs:
President Obama will get a daily economic briefing, similar to the national security briefing he receives every morning.
The president will be able to keep his BlackBerry to keep in touch with top staff and friends.
At the end of his first day in office, Obama had to ask directions to get to his private quarters.
You might think it would take just a few minutes to convey this little news. But it was the product of an hourlong exchange filled with the rituals of getting-to-know-you, debates about press access, and a few tours around the mulberry bush as we tried to get Gibbs to make more news than he wanted to.
Former Clinton press secretary Mike McCurry says the White House briefing changed forever during the Monica Lewinsky scandal, when the cable networks started televising it live. Press secretaries grew cautious—a mistake could zoom around the world's televisions in minutes. Journalists became theatrical, hoping to impress bosses, girlfriends, and the members of Mom's bridge club.
At Gibbs' maiden press conference, all that was missing was a brass band. The briefing room, which is about the size of a suburban garage, was stuffed with easily more than 100 journalists and photographers. Veteran reporters surfed through puffy winter coats to get to their assigned seats. Helen Thomas had to take the arm of a colleague to run the gantlet. A cameraman for a foreign news outlet set up a step ladder in the middle of the narrow aisle, and when he swung to capture the scene his buttocks offended a series of his colleagues.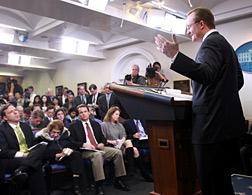 We all waited in sweaty anticipation for Gibbs to arrive. He was just a few minutes late, which was time enough to reflect on the truly awful mishmash that serves as the official White House backdrop. In the more than a dozen years I've attended these briefings, the stage on which the press secretary stands has also gone Hollywood. There's not that much room for the press secretary—Gibbs could barely complete a waltz turn—and yet in that tiny space there's a White House logo, two American flags, two fluted columns, and two electronic screens that read, "White House Daily Briefing January 22, 2009." Gibbs stands in the middle of all of this behind a lectern big enough to stop a truck. Fortunately for those of you in the viewing audience, you never see the complete picture.
When Gibbs arrived, he looked a little nervous in his baby-blue tie. "Give me one sec to get organized here," he said, shuffling his papers. The cameras clicked away. If the attention of the world weren't nerve-racking enough, the cameras should have been. Every time Gibbs gesticulated, a thousand shutter snaps exploded.
Once the exchanges began, Gibbs dished quips and performed many familiar routines that won him raves from three former White House press secretaries I surveyed afterward. He avoided specifics in favor of firmly stated generalities. He stuck to the talking points. Describing the redo of the presidential oath, he used the term "abundance of caution" 10 times, as if he were trying to win a secret contest. The room laughed at his last use of the term. "I don't mean for you to laugh when I don't say something altogether generally funny," Gibbs said, looking a little wounded.
He moved with ease past apparent contradictions. An Obama executive order bans lobbyists from working in government jobs related to their work for their former employers. William Lynn, slated to be deputy defense secretary, was recently a lobbyist for Raytheon, a major defense contractor. Gibbs was unfazed. He said there needed to be exceptions to this new rule, and that Obama's rules amounted to the toughest ethical standards in history.
It is the kind of contradiction that candidate Obama would have rolled around in like a Labrador. "See, I was trying to explain to somebody a while back … the okie-doke," he would have said. "You all know the okie-doke. When somebody is trying to bamboozle you, when they are trying to hoodwink you."
The briefing was dominated by questions about Obama's orders to close the Guantanamo terror detention facility and ban harsh interrogation techniques. Gibbs refused to make news, referring reporters to an earlier background briefing by senior officials. (I can't tell you their names.) After deferring a question on the president's new torture policy until he checked his facts with the National Security Council, he was asked whether it was fair to conclude the policy was up in the air. "It's fair for you to conclude that I want to make sure I don't make a mistake."
If any viewers were frustrated with Gibbs, they were no doubt far more frustrated with the journalists. Several of the questions related to access and transparency—like how President Obama could exclude TV and radio coverage of his second oath of office Wednesday. In some cases, the questions involved matters of principle that are important to the press but are of little interest to anyone else, such as whether accountability is better than anonymity. To members of the nonpress—which is to say, pretty much everyone not in that room—it must have looked small-minded. Said Jim Jordan, a veteran Democratic strategist: "It certainly worked to his advantage that the press corps—in the midst of this historic moment, in the midst of national and international crisis—descended, inevitably, into a whiny, pitiful litany of it's-all-about-me complaints about access."
Afterward, a colleague joked to me, "About midway through, I thought I was going to fall asleep." Too bad Obama has frozen the salaries of his top staffers. In earlier times, that kind of praise for a press secretary would have gotten him a raise.
---