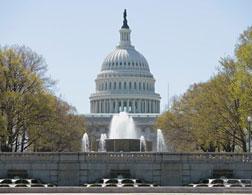 Everything about Barack Obama's inauguration will be historic: his speech, the turnout, the oath itself. And if residents of Washington, D.C., are smart, there will be historic levels of opportunistic profiteering.
You've probably heard about D.C. locals renting their homes on Craigslist. Rooms are going for as much as $1,000 a night. And not just in the District. One house in Alexandria, Va., is being rented for a reported $50,000 for the entire week. Pennsylvania Sen. Bob Casey is urging inauguration-goers to spend the night "a short drive or train ride away" from the capital—in his home state.
What other moneymaking opportunities does the inauguration present?
Rent your parking space. Parking near the National Mall is extremely limited, and most existing spaces are available for only two hours at a time. So, if you've got a private spot, sell it. Or, if you know about any unzoned parking, you can share that information for a small fee. Another option: Hold and "rent" spots in conveniently located public parking lots, like the one on Hains Point near the Jefferson Memorial. Legal? Doubtful. Profitable? Certainly.
Rent your car. Traffic will be hell, but Californians are used to that. Just make sure to offer better rates than rental companies—which shouldn't be hard. Another option: Reserve a bunch of Zipcars now (you can reserve up to a year in advance) and sublet them during inauguration week.
Run shuttles to the city. Public transportation will be a mess, too. Plane tickets are almost gone, and coach buses are disappearing fast. Even if there are tickets left in January, prices will be stratospheric. So borrow your mom's van or your dad's SUV and offer rides from nearby cities to D.C. The drive to and from Philly shouldn't cost more than $100 in gas. From Pittsburgh, a little more. Charge $60 a seat, and you're flush. If that's too much work, drive people back and forth from Dulles airport.
Rent office space. Think of all the wasted space in vacated offices across the city. Spread out a few cots and turn your office into a dormitory. Many inauguration-goers will be coming in big delegations—it would be a lot easier for them to crash together than separately. Your best bet for finding takers is Craigslist.
Get a pedicab. Washington, D.C., does not have the vibrant pedicab culture of, say, New York City. But it could. Take advantage of all those bike lanes and ferry people around town. You can splurge on a full-blown pedicab or hook a trailer up to your bike. You can even create your own zone system!
Get a lobbyist to pay for your party. Obama has shunned lobbyists from his campaign and his transition team. If he keeps them away from his inaugural, lobbyists will be looking for other ways to rub shoulders with D.C. influentials. So, if you know a congressman or two—or have a lot of low-level staffer friends—see if you can get a lobbyist to foot the bill for your party. Not sure how to find a sponsor? OpenSecrets.org has a searchable Lobbying Database.
Name drinks after Obama. In Denver during the DNC, every bar had an Obama-themed beverage, even if it was secretly Bud Light. Advertise outside your establishment that you're serving Irish Car Obamas, Change-tinis, and Barack and Cokes, and brace yourself for business. Ice cream shops, go with "Yes, Pecan."
Become an escort. Seriously. You know what inaugural balls mean: old dudes without dates. Chances are that, like the airlines, the D.C. escort services are booked (or shut down). Here's your chance to get into the best parties in town and make a buck. Just be careful which section of Craiglist you advertise in. (Or don't.)
Sell food. Hot chocolate on a January morning in D.C. will be like water in the desert. And with few coffee shops within walking distance of the Mall, you can charge Starbucks-level prices. You'll need a street-vending license, though. Special inauguration permit applications will be posted here Dec. 1. In the meantime, you can find info on the regular permit here. Expect to pay a few hundred bucks for the privilege.
Sell memorabilia. Nothing opens wallets like a stirring inauguration speech. So if you've got stacks of leftover campaign buttons, stickers, and T-shirts, here's your chance. Artists, throw together some authentic-looking portraits of Obama. Seamstresses, get started on those Obama snow pants. Anything people can brandish to prove that they were there. Again, special permits will be posted here Dec. 1. Find info on the regular permit here.
Sell warm clothes. This is not the time to hawk baby-doll tees. Try gloves, hats, scarves, and those thermal foot warmers that snowboarders use. Buy them in bulk. If there's a chance of rain, make it umbrellas.
Sell binoculars. Yes, there will be giant screens showing Obama's speech. But people could watch that at home. Give them a chance to see the real thing—albeit from half a mile away. You can get $10 pairs on Amazon.
Sell your tickets. Just don't get caught.
---