The Congressional Research Service of the Library of Congress provides the House and Senate with fast, rigorously factual analysis on issues of topical interest. On Oct. 22, at the request of an unidentified legislator, CRS compiled a 14-page report titled "Status of a Senator Who Has Been Indicted for or Convicted of a Felony" (excerpted below and on the following four pages). May an indicted or convicted senator vote? Be recalled? Can his salary be docked? What happens to his pension? These questions acquired new urgency in anticipation of Alaska Sen. Ted Stevens' Oct. 27 conviction on seven felony counts for lying on his Senate financial disclosure reports. Stevens is only the fourth member in the entire history of the U.S. Senate to be convicted of a crime while in office.
The good news for Stevens is that the rules are pretty lenient. CRS found no rules or laws "providing that a Member of the Senate who is indicted for or convicted of a crime must forfeit his or her congressional salary." He "might be required to forego [sic] his … congressional salary for some period," however, if his conviction results in incarceration necessitating his "being absent from the Senate" (Page 4).
The report's author, legislative attorney Jack Maskell of CRS's American Law Division, writes that while the chamber has "significant discretion to discipline misconduct … worthy of censure, reprimand, or expulsion from Congress," in practice the Senate has "expelled relatively few Members, and none since the Civil War" (Pages 2-3). Stevens, who is running for re-election, maintains his innocence and has no current plans to resign, as three of the Senate's four previous convicted felons did. (The fourth, John Hipple Mitchell, died shortly after being found guilty in 1905 of accepting bribes.)
And Stevens' pension? With certain exceptions, "Members of Congress, do not," CRS says, "upon conviction of every crime that constitutes a felony, forfeit the federal pensions for which they qualify and the retirement income that they have accumulated" (Page 5). Stevens has represented Alaska in Congress for 40 years. *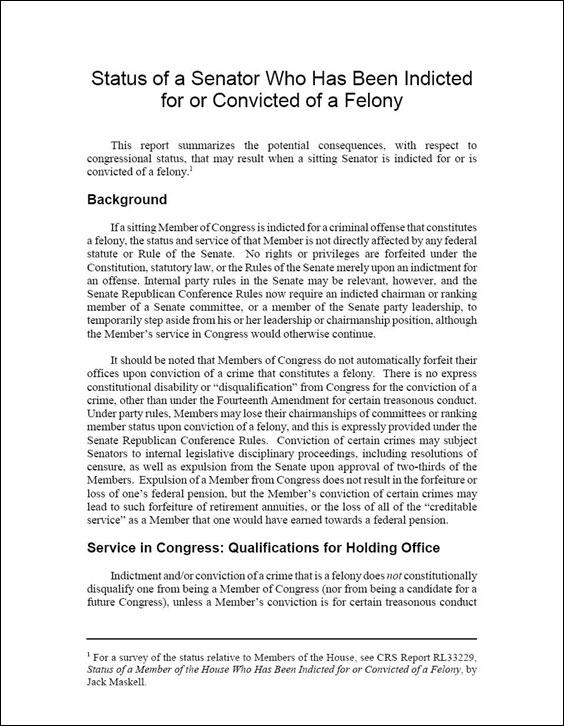 Please send ideas for Hot Document to documents@slate.com.
Correction, Nov. 3, 2008: An earlier version of this column mistakenly reported that Stevens had been a member of Congress for 50 years. Alaska has been a state for only 49 years. (Return  to the corrected sentence.)
---