In July, a few days before Barack Obama paid a visit to British Prime Minister Gordon Brown in concluding his seven-nation tour of Europe and the Middle East, the PM received a six-page diplomatic briefing on "Obama's political makeup" from Sir Nigel Sheinwald, the British Ambassador to Washington (see excerpts below and on the following page).
"[D]espite his blue-collar upbringing," Sir Nigel advised Brown, "Obama does betray a highly educated and upper middle class mindset." Sir Nigel further observed that "Obama is cool. He looks cool, tall, slim  …  and maybe aloof, insensitive." Obama, he wrote, "is tough and competitive. This is of course the Chicago school." (Presumably he was referring to the rough-and-tumble of Chicago's ward politics, not to the rough-and-tumble of the University of Chicago's neoclassical economics, with which the phrase is more typically associated.) Sir Nigel expressed some skepticism about "how sincere [Obama's] post-partisanship is, and how successful his attempts to reach across the aisle would be, given his mixed record in the Senate."
Should Brown and Obama find themselves with any spare time, Britain's U.S. ambassador alerted his PM that Obama "loves basketball and poker."
Sir Nigel warned that his briefing "contains sensitive judgements [sic]" and urged the PM to "protect the contents carefully" (below). It was leaked to the London Telegraph earlier this month.
Please send ideas for Hot Document to documents@slate.com.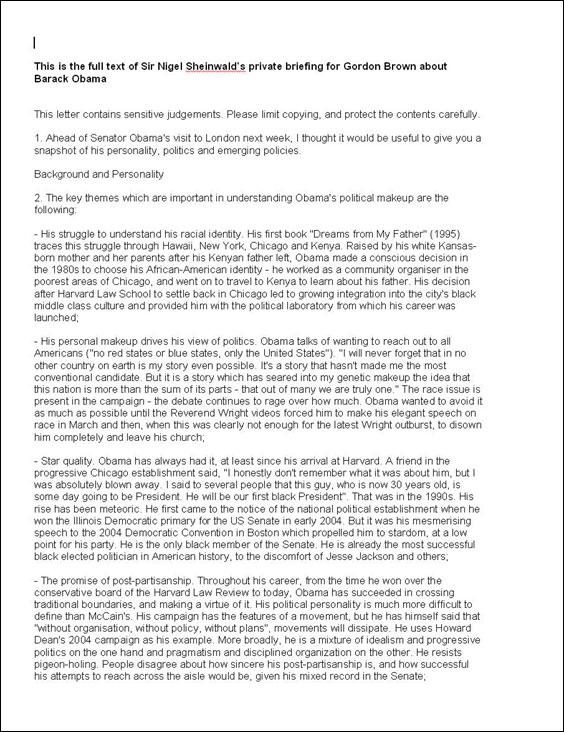 ---