Todd and Sarah Palin hired Leonard J. Hackett, a Wasilla private eye and security-guard business owner, in June 2005 to gather unflattering information about state trooper Mike Wooten. Wooten, now the center of the Alaska State Legislature's "Troopergate" matter, was married at the time to Molly McCann Wooten, Sarah's sister. One of the tasks the independent "legal investigator" performed was to interview Chris Brightbill, night manager of Wasilla's Mug-Shot Saloon (see interview transcript below and the following five pages). The detective wanted to know about a March 2005 incident during which Wooten and another patron exchanged drunken words. No blows were exchanged but, had he not intervened, as Brightbill told Hackett, "they would have been fighting" (Page 3).  Hackett also seemed to lead the conversation:
Hackett: "[was] this trooper abusing his position and authority?" Brightbill: "yes" Hackett: "should [he] be in the position of being a licensed trooper?" Brightbill: "no"Hackett: "Was he out of control?"Brightbill: "yes"
In Hackett's cover report attached to the transcript (Pages 5 and 6), the P.I. gave his clients additional background on the interview subject ("Since I interviewed him telephonically, I cannot tell you how he would present to a jury"—Page 6) and added his own impression that the bartender would consider Wooten a "loose cannon" and an "asshole" (Page 5). (There is no state P.I. licensing requirement in Alaska and Hackett is not listed as a member of the state investigators association.)
In August 2005, in an effort to discredit Wooten, future Gov. Sarah Palin complained about Wooten to his boss, Col. Julia Grimes, citing Hackett's interview report as evidence of her brother-in-law's "illegal and unethical actions that reflect so poorly on the Troopers."
The Alaska Legislature is scheduled to release the Troopergate report today.
Please send ideas for Hot Document to documents@slate.com.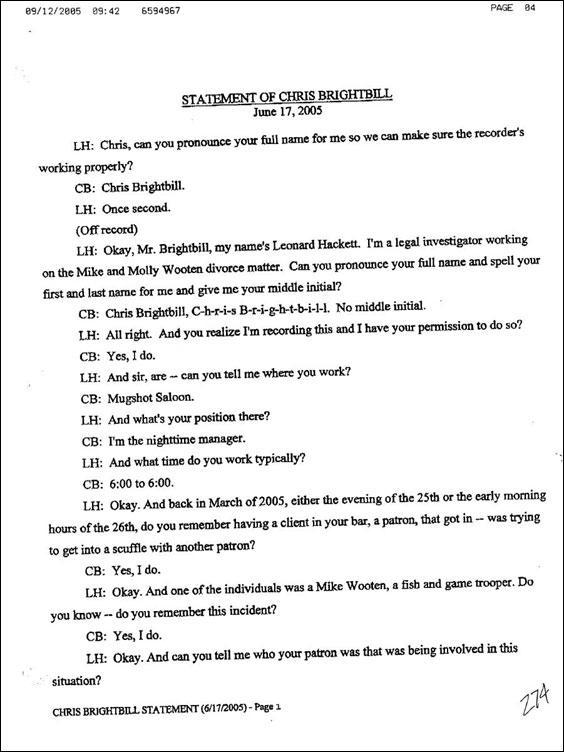 ---