The first question of tonight's debate should be for John McCain, and it should be this: What were you thinking ?
Let's review: It was precisely 2 p.m. on Wednesday when McCain issued a statement saying he was suspending his campaign, and asking to delay tonight's debate, so he could "return to Washington" to work with both parties on the Wall Street bailout plan. He was clear about the goal: "We must meet until this crisis is resolved," he said. Then, at 11:30 a.m. today, he declared the suspension lifted. Crisis resolved? Not exactly. But McCain said he was "optimistic that there has been significant progress toward a bipartisan agreement." He will be in Mississippi tonight to debate Barack Obama.
From crisis to optimism in less than 48 hours: That's leadership! Or maybe not. There's a better word to describe McCain's behavior between his two announcements.
First, it should be noted that he didn't really suspend his campaign. His campaign asked TV networks to stop running ads, but some still aired. Sarah Palin still attended public events . Surrogates and campaign aides continued to boost McCain and ding Obama. And McCain himself still held an interview with Katie Couric (though he canceled on David Letterman, much to Dave's chagrin ). Then there's the length of time it took him to get to the White House after his announcement— more than 24 hours . Then there's what he did when he got there— upset a bipartisan agreement that appeared to be moving along well, remain mostly silent during the key meeting with Obama and President Bush, blame Democrats for the mess-up, and accuse Obama of "posturing." His final act was to skip off to Mississippi for the debate.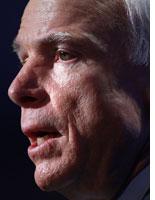 Editorial boards and most other observers declared the decision a mess , especially after the Thursday meeting in which bipartisan negotiations collapsed. Even Mike Huckabee, a McCain booster, called McCain's gambit a "huge mistake." ( That said, Newt Gingrich approved , calling McCain's decision "the greatest single act of responsibility ever taken by a presidential candidate.")
But despite all the talk about his campaign suspension, McCain's bigger mistake may have been lifting it and agreeing to debate Obama. Initially, McCain promised to boycott the debate barring " consensus on legislation" to address the bailout. Needless to say, that hasn't happened. What has happened is that a general agreement on the broad strokes of the bailout package has fallen apart; House Republicans who had earlier seemed amenable to the bailout have revolted, possibly to make it look as if McCain swooped in and saved the day; and talks have " imploded " thanks largely to the arrival of both presidential candidates on Capitol Hill.
McCain's assessment of all this in a statement this morning? " Significant progress ."
Take it away, Jim Lehrer.
---