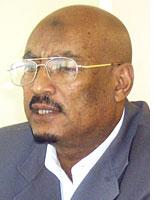 HARGEYSA, Somalia—Two of the five presidential candidates in the breakaway state of Somaliland have a Franklin D. Roosevelt-style "new deal" as part of their campaign platform. Roosevelt's popularity isn't a coincidence. As returning members of the Somali diaspora, Faisal Ali Waraabe and Ahmed Hussein Esa have taken elements from the societies where they took refuge and remixed them with Somali politics, like a DJ playing Marvin Gaye vocals over a hip-hop beat.
"Justice and Welfare is a centre left party which has many similarities with Scandinavian social democratic parties," Waraabe's party brochure declares. "It is a reformist party aiming at the practices of Fabians and the political philosophy and morality of Islam and ethical socialism." Created in 2001, Justice and Welfare now holds 21 of the 82 seats in Somaliland's parliament. The other two parties, KULMIYE and UDUB, are composed of former rebel leaders and war veterans who fought Siad Barre, along with some former members of the Barre regime, which lasted from 1969 to 1991. Waraabe's social democrats claim to distance themselves from the bipartisan establishment, which they describe as "a feature of backwardness and a symbol of statelessness."
Waraabe and Esa are among more than 2 million Somalis who have fled their collapsing country since the 1970s. Somaliland's poorest refugees escaped the Somali civil war in 1988 and took refuge in camps in Ethiopia. Having lost their livelihoods and homes, many never recovered and now live in tents inside the ruins of Hargeysa's bombed state house. They were privileged when they left, but Waraabe and Esa are now among Somalia's best-educated demographic, a group known as the "Western intellectuals" or "the diaspora."
Waraabe, a former engineer, settled in Helsinki, Finland, where he founded a nonprofit to support Somali diaspora members in Scandinavia. Esa got his Ph.D. in immunology from Johns Hopkins University and went on to teach in its medical school. Both men still live with their families in Europe and the United States, but they spend part of the year in Hargeysa. About one-third of Somali politicians come from the diaspora, including the prime minister of Somalia proper, the recognized country Somaliland broke away from. Prime Minister Nur "Adde" Hassan Hussein was attorney general in Siad Barre's government until it collapsed in 1991. Then he went to England, where he became a British citizen.
Diaspora politicians have a bad rap with their peers in Somalia. They're called "nobodies," because they didn't fight in the civil war; "technocrats," because they hold advanced degrees; or "puppets" of Western governments. Everybody wonders if democracy can be implemented by part-time residents. But they're quickly forgiven by the international governments that influence and fund development in Somalia. Ahmed Hussein Esa could pass for an American politician. When he's away from his home in Takoma Park, Md., he runs a think tank in Somaliland and drafts land-mine policy as a board member of the International Campaign To Ban Landmines. Diaspora politicians are people the West—and young Somalis—can relate to.
Waraabe brings the leader of Somaliland's youth lobby group to our interview. The diplomatic young man coordinates with NGOs working with Somaliland youth on education and development issues and lobbies politicians to address them. He smiles as Waraabe promises to create jobs for university graduates; bulk up the proportion of women, young adults, and handicapped people in his central committee; and devolve power from Somaliland's capital to provincial districts. Waraabe's eclectic ideas are ambitious. He says he will visit Turkey this summer to learn more about their Justice and Development Party, whose ideas and experience he'd like to borrow from "to show the world the good face of Islam." He wants to change the name of Somaliland. How about the Red Sea Republic?
Balding, with a light complexion and a brown mark on his forehead from striking his head on the ground during prayer, he looks and acts like my late Armenian grandfather, who also fled war for a promised land. Had Waraabe gone to Minneapolis like tens of thousands of Somalis, he would have fit in perfectly. He might have joined the Rotary Club. Waraabe wants to lure people home. He says only 10 percent of the people who fled have returned to Somaliland because of slow economic development that he blames on the ruling party.
The former diaspora members in Somaliland are a flashy minority. The elite meet in a handful of hotel restaurants. At one, I dine with Ahmed Said, the BBC's Hargeysa correspondent, who brought his family back from England. Farhan Ali Ahmed joins us, the founder of a new Somali TV channel. Ahmed tells me about his gas station in Bellevue, Wash.; his ex-wife in Portland, Ore.; his half-Mexican baby; and another ex-wife in Minneapolis. Upheaval in Somalia produced a generation of adults who have truly lived nine lives.
Amina Warsame presides over women's issues in Somaliland as the executive director of Nagaad, a women's advocacy group. She earned a master's degree in human development from the Institute of Social Studies in The Hague and lived with her family in Sweden after fleeing the Somali civil war. Warsame says 98 percent of mothers in Somaliland still circumcise their young daughters for fear of stigma, but members of the diaspora in Europe and the United States can avoid the practice.
One of the most radical characters to return is Abdirahman Ahmed Shunuuf. My 30-year-old guide in Somaliland, Mohamed Amin Jibril, is swayed by Shunuuf's bold promise to provide free education for all if he is elected president. The only problem is that Somaliland's constitution permits only three political parties, and he doesn't belong to any of them. The renegade started out as a student activist at the University of California-Berkeley, where he studied as a refugee. Recently returned to Somaliland after three decades of civil rights activism in the United States, Shunuuf and his brother are building a public university in Hargeysa with a curriculum based on that of Portland State University. I tried to interview him, but he was arrested for attempting to create an unlawful political party before our appointment.
Somalilanders often compare their unrecognized breakaway state to Israel. One diaspora member, Omar Dihoud, even founded the Somaliland-Israel Friendship Society. "Sometimes I say Somaliland is the Israel of the Horn of Africa, because all the surrounding Arab states hate it," my guide told me. Others empathize with the Jewish culture of survival after being persecuted by Siad Barre.
Now, south Somalia feeds the diaspora. According to the United Nations, fighting between Ethiopian troops and Islamists in Mogadishu has driven 1 million south Somalis from their homes in the last year out of a population of roughly 3 million people.
In Nairobi, Kenya, BBC correspondent Yusuf Hassan Moalimisak laments his family's displacement. His brother was killed by Ethiopian soldiers while defending his home in Mogadishu, and his sister-in-law lives now with five children in a refugee camp that houses more than 200,000. Moalimisak's own wife and children live in Toronto, and he has to cover Somalia from neighboring Kenya.
I congratulate him for persevering.
"We have no choice!" he says unhappily. "We are like wandering Jews."
---