While flying home after a week of vacation, I read this brief in the International Herald Tribune , via the Associated Press :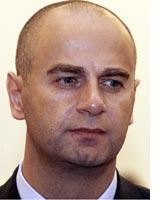 ZAGREB, Croatia—A court convicted a retired Croatian general of war crimes Friday for failing to stop his soldiers from torturing and killing Serbs in a wartime operation once deplored by UN peacekeepers as a "scorched earth" campaign.

General Mirko Norac condoned crimes committed by those under his command, the Zagreb district court judge Marin Mrcela said in the ruling. He sentenced Norac to seven years in prison.

The judge acquitted another retired general, Rahim Ademi, in the case.
Of course, the important thing here is the crime with which Norac was charged. Norac did not stand accused of personally torturing and killing Serbs. Or even directly ordering those acts. Rather, the court convicted him of "condoning" such crimes under his command. In reaching this verdict, the court relied on a principle deeply ingrained within the law of war: that of command responsibility. Simply stated, the rule makes a commander responsible for all his unit does, either where he knew of the conduct or should have known of the conduct, although scholars and jurists continue to debate this knowledge requirement. In a famous WWII case , the Supreme Court affirmed a war crimes conviction for Tomoyuki Yamshita , a Japanese field commander charged with "unlawfully disregarding and failing to discharge his duty as a commander to control the acts of members of his command by permitting them to commit war crimes." 
In this case, it appears that Norac did indeed know of his troops' crimes, making this an easier case in some respects. Nonetheless, this decision reaffirms the general rule, and it should remind senior military commanders everywhere of their duty to heed the law of war. "It was his duty to prevent" the crimes, the judge wrote in his ruling, continuing that "by not taking legal actions against the soldiers after learning that they committed war crimes, a commander (Norac) in fact provided a pattern on how soldiers should behave."
---