Diane, we're in full agreement on the point that the nation would benefit from the appointment of a "lawyer's lawyer" to the Supreme Court . While I can think of a number of federal judges (and even a couple of law professors) who I think would do a fine job on the federal bench, I agree that a longtime practitioner would bring a degree of practical judgment and experience that would benefit the court (and the public as it attempts to follow the laws interpreted by the courts).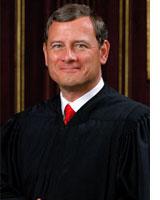 That said, after reading your post, I'm not sure how Chief Justice Roberts doesn't squarely meet your standard. His lawyering skills were widely admired by the bar; he had no ideological ax to grind; and his tenure on the court has been marked by collegiality, wit, and a refreshing writing style. What more would a "lawyer's lawyer" or "judge's judge" have to do, beyond what Chief Justice Roberts did in his practice and on the federal bench, to satisfy the standard you envision?
And given that John McCain—neither an ideologue nor a reflexive partisan—repeatedly invokes Chief Justice Roberts as one of his ideal judges, isn't there abundant cause to conclude that, if the electors choose McCain, then "the person whom voters entrust with the filling of federal judicial vacancies will give priority not to 'partisan political concerns,' but rather to 'dignity' and 'intellect,' ideally tempered with 'charming wit and sense of humor ' "?
---