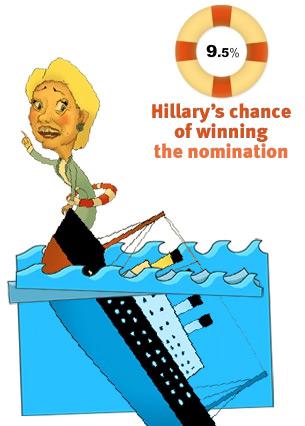 A high-profile Obama endorsement, a tightening race in Pennsylvania, and a big March fundraising gap dock Hillary 0.4 points, taking her down to 9.5 percent on the Clintometer.
The big news: Democratic national-security guru and former Indiana Rep. Lee Hamilton is endorsing Barack Obama. Hamilton's backing isn't expected to invigorate voters, Kennedy-style (though you saw how that worked out). But as a member of the 9/11 commission and co-chair of the vaunted Iraq Study Group, he'll burnish Obama's foreign-policy credentials. (And maybe his old-folk cred, too—Hamilton is 76.) Too bad he's not a superdelegate. However, Wyoming Gov. Dave Freudenthal, who also endorsed Obama today, is.
Hamilton's home state, meanwhile, doesn't agree with him. According to a new SurveyUSA poll, Clinton leads Obama by nine points in Indiana. The state's May 6 primary is still a long way off, and this is just one poll, but a major Clinton victory there would hand the campaign a lifeline, even if Clinton still can't make up the pledged-delegate count. In Pennsylvania, Obama narrows the gap from 12 points to nine, according to a Quinnipiac poll with a 2.5-point margin of error. A Rasmussen poll puts the gap at five points. Again, there are still three weeks until April 22, but the chances of a Clinton blowout appear to be shrinking.
At the same time, some Dem bigwigs are easing off earlier procedural recommendations that favored Obama. A day after Nancy Pelosi said Clinton should stay in the race if she wants to, Howard Dean says superdelegates should vote as independent agents—not a revelation, but the statement backs away from suggestions that superdelegates should ratify the pledged-delegate count. That said, Senate Majority Leader Harry Reid agreed with Dean that superdelegates need to make up their minds by July 1. For Clinton, time good, deadlines bad.
Lastly: Less money, more problems. Early estimates put Obama's March fundraising total north of $30 million. Not as hot as his $55 million February haul, but enough to dwarf Clinton's estimated $20 million for March. This despite what many consider Obama's worst news month yet. Meanwhile, Clinton's debts are reportedly as high as $9 million, not including her $5 million self-loan. Obama is already outspending her 3-to-1 in Pennsylvania—and he can afford to continue. There's a saying that candidates never drop out; they just run out of cash.
For a full list of our Deathwatches, click here. For a primer on Hillary's sinking ship, visit our first Deathwatch entry.
Send your own prognostications to hillarydeathwatch@gmail.com.
---