See Slate's  complete Democratic Convention coverage.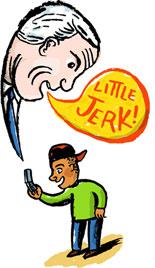 Already got a dozen Barack Obama headbands? It's time for a new campaign accessory: Slate's political ring tones. Get one of these clips, and you'll hear John McCain say, "My friends," every time you get a call. Or if you're in a less friendly mood, you can switch to the "Shame on you, Barack Obama!" ring tone.
To get a ring tone, send a text message with one of the order codes listed below to the number 98999. For the Hillary laugh, for example, text SLATE LAUGH to the number 98999. We'll send the ring tone to your phone as a text message that includes a downloadable link. For more detailed instructions, click here. Or if you just want to listen to the clips on your computer, click one of the embedded players below or use the "Download MP3" links to save to your hard drive.
Slate's political ring tones are free of charge, though standard text-messaging rates may apply. Please see our terms and conditions for more details.
Ring tones are available only for AT&T, Cellular One, T-Mobile, and Sprint. (Downloading by Verizon customers is currently unsupported.) In order to download ring tones, you must have text-messaging and data-download services enabled on your mobile phone. If you're not certain whether your phone is SMS-enabled or Internet-enabled, please check with your wireless carrier. Unfortunately, there's too much variation among phones to describe the download and installation process for each handset. Please don't blame us if you can't get your ring tone to work—blame the wireless carriers for failing to come up with a simple, common procedure to do this sort of thing. Good luck, because we think the payoff is worth the minor hassle. (And a reminder that if you need more detailed instructions, click here.)
Joe Biden declares, "You cannot go to a 7-11 or a Dunkin Donuts unless you have a slight Indian accent." Text SLATE 711 to 98999 to get on your phone. Download now (111KB)
Joe Biden calls Barack Obama "the first mainstream African-American [presidential candidate] who is articulate and bright and clean." Text SLATE CLEAN to 98999 to get on your phone. Download now (109KB)
John McCain says, "That's not change we can believe in."Text SLATE NOT to 98999 to get on your phone. Download now (74KB)
Hillary Clinton announces, "I am standing with Sen. Obama to say, Yes we can!"Text SLATE HILLYES to 98999 to get on your phone. Download now (104KB)
The Rev. Wright proclaims, "Goddamn America!" Text SLATE WRIGHT to 98999 to get on your phone. Download MP3 (100KB)
The Hillary laugh. Text SLATE LAUGH to 98999 to get on your phone. Download MP3 (107KB)
John McCain calls a young questioner a "little jerk."Text SLATE JERK to 98999 to get on your phone.
Download MP3 (58KB)
Barack Obama shouts, "Yes we can!"Text SLATE YES to 98999 to get on your phone. Download now (54KB)
Hillary Clinton says, "Shame on you, Barack Obama!"Text SLATE SHAME to 98999 to get on your phone. Download MP3 (69KB)
The John McCain "my friends" compilation. Text SLATE FRIEND to 98999 to get on your phone. Download MP3 (175KB)