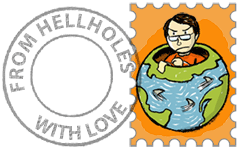 JALOZAI, Pakistan—To leave or not to leave? That is the question 80,000 Afghans in the Jalozai refugee camp, located 20 miles from Peshawar, must ask themselves. It is not a theoretical matter: Last week, almost three decades after it was set up, the camp officially closed.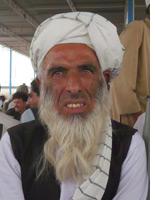 Those displaced by the fighting in Iraq and Darfur at least receive some international attention, but the world's biggest refugee crisis for more than a quarter of a century is now a largely forgotten "old caseload." These are Afghans who fled the Soviet invasion and the many upheavals that followed. Three million have already returned home, but more than 2 million are still in Pakistan and 1 million in Iran. Jalozai is the biggest of the remaining 86 camps in Pakistan, all slated for closure sooner or later.
The security situation in Afghanistan is not getting better, but the new coalition government in Islamabad has no more patience for hosting such a huge refugee population than the previous Musharraf government did. Formal agreements about repatriation were reached between Islamabad, Kabul, and UNHCR, the U.N. refugee agency.
Repatriation is always the most desirable conclusion to a refugee crisis, provided it is safe and voluntary. Yet during the registration conducted by UNHCR and the Pakistani Ministry of State and Frontier Regions in 2007, 84 percent of Afghans in Pakistan said they didn't want to "return," even though their registration cards say in big letters "Afghan citizen." No wonder: Most were born here, and they have never set foot in Afghanistan; few have a house or land to go back to. But the opportunities for staying in Pakistan legally are practically nonexistent, so return may be the lesser evil. Thus the dilemma.
"Leave," says Ahmedzai, an elegant and soft-spoken 53-year-old technician who works for a de-mining company in Kabul. He came to Peshawar while fighting the Soviet invasion. He kept his family in Pakistan after he found the job in Afghanistan in 1995, because he wanted a good education for his sons. He has no house in Kabul, but he is anxious to be "home" because the daily announcements about the impending closure that are blasted from the loudspeakers in the camp's mosque create unbearable pressure on all the camp inhabitants, including Ahmedzai when he comes on leave to relax from his nerve-wrecking de-mining job.
"Stay," says Haq, a fortysomething ethnic Turkmen from Mazar-i-Sharif in northwestern Afghanistan, who came fleeing the Taliban. He receives me with his wife and children sitting on their carpet-weaving frame, wool flakes littering the space. He worries that given the low prices for carpets in Afghanistan, he could not make a living from weaving. A political refugee when he came to Pakistan, he now seems economically ill-prepared for life in a country as dependent on foreign aid as Afghanistan. He would prefer to go to Turkmenistan, but UNHCR says that the former Soviet republic is not accepting its ethnic brethren.
"Leave," decided Noor, a teacher of English who is preparing to go because of the closure of the camp school. He learned English two decades ago in a program run by International Rescue Committee (we have been working in Pakistan for 28 years). Noor hopes that many other Afghans will return with their children, because then he could continue his job as a teacher. Likewise, his father-in-law could continue as imam if the congregation returned.
"Stay," declares a 67-year-old ethnic Pashtun who did not authorize me to use his name. He is from the northern Jawzjan province and came to Pakistan 29 years ago. He was a freedom fighter against the Soviet invasion, but he brought his family to the safety of this Pakistani camp while he commanded 2,500 mujahideen. Among his former adversaries in the complicated Afghan wars were some who now hold high positions in the government of President Hamid Karzai. For this Pashtun, a return to Afghanistan is too risky, so he is insistent that he is not going back: "I will stay in the camp until the bulldozers come."
But can an old man—even a former mujahideen—stand up to a bulldozer?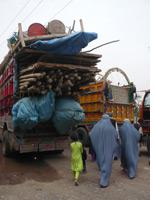 The road to UNHCR's repatriation center in Peshawar—where I met those who are being "de-registered" after voting with their feet to leave—follows the enormous terrain that is all that remains of the Kacha Garhi camp. Kacha Garhi once hosted 65,000 Afghan refugees, but it was razed to the ground by bulldozers last July. It is a dreadful reminder that camps in Pakistan eventually close, whether or not Afghanistan is ready to receive the refugees. Now the only sign that Afghans lived on this leveled field for decades is a grim one: Peshawar's coffin producers have chosen to showcase their offerings by the side of the road. The caskets that line the side of the road are sold to departing Afghans who want to take the remains of their ancestors with them.
Outside the repatriation center, we accompanied the de-mining technician to his truck, which was loaded high with everything he could take from his house: beams, window frames, refrigerator, washing machine, beds, bedding, and the entire family mounted on top, women covered by blue burqas, children in their best clothes. My colleague told me that some refugees from Jalozai dismantled their homes themselves, rather than let the bulldozers do it, so that they can salvage the most precious parts of the mud house, namely, the beams. Pointing to the back of the truck, where battered logs were neatly stacked, she made a disarming lapsus linguae: "See? They take with them all their dreams."
Indeed they do.
---