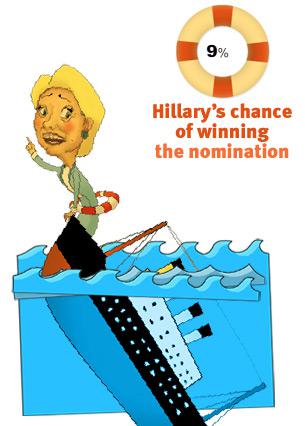 The mortar in Clinton machine's bulwark, once thought to be indestructible, continues to crumble as a once-faithful supporter hints that he might defect. Plus, more good fundraising news for the Obama camp brings Clinton to an even 9 percent chance of survival.
On the face of it, New Jersey Gov. Jon Corzine's statement this morning on CNBC that he reserves the right to defect if Clinton loses the popular vote sounds more inside baseball than headline news. But consider these factors: Corzine endorsed Clinton more than a year ago as part of Clinton's initial sweep of superdelegates. (Yesterday was the anniversary of that announcement.) A defection by Corzine would mean the foundation is crumbling. Also, Clinton won the New Jersey primary by 11 points on Feb. 5. Jersey is in her backyard, and the fact that the governor would consider siding with the popular vote over the overwhelming opinion of his constituents won't go overlooked by other superdelegates from states she won. If Richardson is "Judas," what would that make Corzine?
Meanwhile, Obama announced $40 million in donations to his campaign in March, including more than 200,000 first-time contributors, according to the press release. The Clinton campaign was reticent on their own figures, which likely won't become public until the campaign files with the FEC down the road.
Better for the Clinton campaign is how much traction its "Obama can't win" jingle is gaining. The words are emblazoned on the cover of today's New York Post, bannered on the Drudge Report, and picked up by MSNBC's First Read. Now that Obama's leads among pledged delegates and the popular vote appear to be insurmountable, look for the Clinton campaign to push this "electability" argument front and center.
A new poll from Quinnipiac University has Clinton ahead 50 percent to 41 percent in Pennsylvania, shaving a few degrees off the incline of Obama's uphill fight in the next-to-vote state. Previous polls had put Clinton ahead by double digits in this must-win for her campaign. (A new Public Policy Polling survey has Obama ahead by two points in AP, but this is an outlier for now.) How much this matters depends whose narrative you buy. The Clinton camp says "a win is a win." The Obama camp, meanwhile, is tamping down expectations, despite outspending Clinton at least 3-to-1 in the state. CW-meister Mark Halperin says anything less than a 10-point win for Clinton in the Keystone State means it's over for her.
For a full list of our Deathwatches, click here. For a primer on Hillary's sinking ship, visit our first Deathwatch entry. Send your own prognostications to hillarydeathwatch@gmail.com.
---