Campaign typography analysis is so hot right now.
Back in November, the New York Times ran a cartoon analysis of campaign logo aesthetics. In the Boston Globe , a typography analyst wrote that Hillary's "tall lower-case reminds me of someone with their pants pulled up too high." Newsweek 's Andrew Romano recently examined the Obama "brand," with its hip, bold, evenly spaced Gotham font.
Now, over at typeface firm Hoefler & Frere-Jones , the inventors of Gotham are weighing in. Whereas Gotham " isn't pretending to be anything it's not," they write
Hillary's snooze of a serif might have come off a heart-healthy cereal box, or a mildly embarrassing over-the-counter ointment; if you're feeling generous you might associate it with a Board of Ed circular, or an obscure academic journal. But Senator McCain's typeface is positively mystifying: after three decades signifying a very down-market notion of luxe, this particular sans serif has settled into being the font of choice for the hygiene aisle. One of McCain's campaign themes is "Making Tough Choices:" is this the one you would have made?
To illustrate their point, they offer this repurposing of the Clinton and McCain fonts: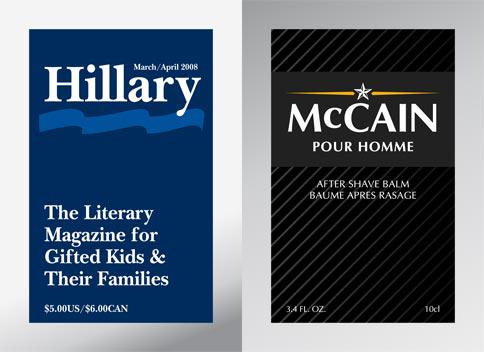 ---