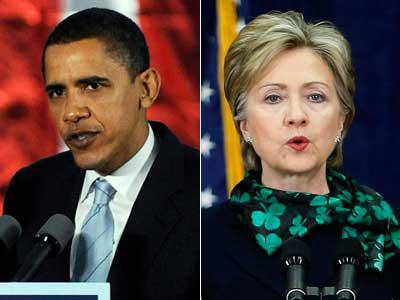 In a race where identity politics is everywhere, you'd think Barack Obama would put more emphasis on his Irish heritage today. See above. ( Update 12:45 a.m.:  Obama's campaign sends word that he wore a green tie to a dinner with the Irish Women's Society in Scranton this evening.)

Last year, geneologists traced his lineage back to one Fulmuth Kearney, who sailed from Ireland to New York in 1850. (Various Irish counties claim to be his place of origin.) But it turned out his roots are Irish Protestant, not Catholic. On a day when both candidates are trying to boost their cred among Catholics in time for the primary in Pennsylvania, it might be unwise to remind everyone that his ancestors were on the other side.
Still, that didn't stop his campaign from creating St. Paddy's-themed Obama buttons. Nor did it stop the folks at Barely Political from creating a fake attack ad alleging that Obama is a leprechaun.
P.S. — That reminds me, Obama already has his own ice cream flavor . Seems about time for an Obama-themed drink, no? How about the "Irish Car Obama"?
Update 5:19 p.m.: A helpful reader points out that Obama does in fact have a drink named after him: A cheap Kenyan beer called Senator Keg .

---