You may remember Fred Thompson from such unmemorable primary films as You're the GOP's Only Hope , I Love You, You're Lazy, Now Change , and his breakthrough role Failure to Launch . After the primary-going public didn't buy Thompson's presidential character, he was pushed out of his new career and forced to retire to Tennessee.
But now, Thompson wants back in—to Hollywood. After two months off the trail, he joined a Hollywood casting agency again, assumedly to pursue the law and politics roles he was acting in before he ran for president. But here's the thing—if America didn't buy him as a real president, they may not buy him as a fake one anymore, either.
In that case, Thompson will have to look for other roles. Our first thought: Forget showing his face—go 3-D and try voice acting. Thompson's most memorable feature is his laconic Southern drawl, which echoed around the debate hall (especially compared with Ron Paul's squeal.) Thompson could corner the market on the wise but gruff grizzly bear. At the least, it will mean Thompson is animated, for once.
And if that doesn't work, he can always relive the horror film that was his primary run. Working title: Freddy Thomspon: Nightmare on Pennsylvania Avenue .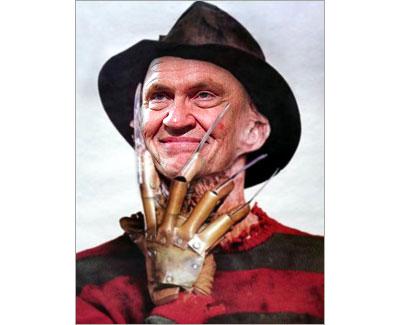 ---