Dana and Kim:
First, let us extend congratulations to Scott Rudin, producer of No Country for Old Men, on the occasion of his first Oscar. Rudin—beloved by literary novelists for doling out generous option agreements and unanimously adored by former assistants for being incomparably easygoing—will next traffic in Cormac McCarthy's oeuvre with an adaptation of Blood Meridian to be directed by Ridley Scott. And then, of course, we can look forward to No Country For Old Men 2: Even Less Country.
Second, I'd like toot my own horn for correctly predicting that no speeches beyond those of documentarians would approach the subject of politics. But how are we to account for this silence? Has the industry had its fill of issues after three months of labor strife? Did the winners, many of them European, simply not give a fig? Or does Hollywood view the excitement of the primary season as its competition? (L.A. to D.C.: Drop dead.) On a related note, while I was pleased to see Tom Hanks throw it to Baghdad so that troops stationed there could read a list of nominees, I thought the soldiers got shafted. I mean, you spend the day trying to counter IEDs, and then you introduce the documentary shorts? Is sound mixing too much to ask for?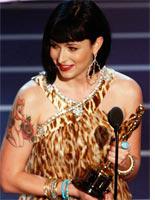 Third, on the schmatte front, I must assume that our colleagues on the fashion desk, otherwise quite comprehensive, neglected to mention the dress worn by Rebecca Miller, Daniel Day-Lewis' wife, solely on account of its being unmentionable. If I was wincing at things correctly, she had put on some late-Victorian wallpaper, some casket lining, an obsidian brooch the size of my face, two poinsettia-red ribbons, and checked pumps. Also, I'm shocked to see that Dana failed to note that Diablo Cody turned up looking like Fred Flintstone's daughter on prom night. Further, on the example of Hanks and Forest Whitaker, I've decided to go for a double-breasted number the next time I buy a tux.
What else? I have the vague sense that there was a show and that it offered briskness without brevity, shade without color, boredom without surcease. Despite forgoing the usual tributes to and clips from the best-picture nominees and regardless of a shortage of sketches and skits and pre-taped bits, it went on, as is customary, forever. Why does the orchestra conductor even bother lifting his baton to truncate acceptance speeches? What's an extra couple of minutes? We're all in a stupor anyway, and the wonderful duo from Once could have droned on like a Strom Thurmond filibuster without much of a difference. That said—and please correct me if this is not a recent development—it did seem a noteworthy advance in civility that long-winded winners were played off the stage by music from their own films.
The only discernible purpose of the best-picture montage Dana mentions—beyond killing time that is already dead—is to help people at Oscar parties bond as, reviewing the films of yesteryear, they gush (1934, It Happened One Night: "That's a great movie"), or scoff (2005, Crash: "Mwhh"), or quip (1947, Gentleman's Agreement: "Gregory Peck? Jewish?"), or reminisce about Quiz Show (1955: Marty), or reveal that they own copies of Gigi. At this point, it is too much to ask that the Oscars actually change. It's as if, held captive by them for so long every year, the global audience has developed a case of Stockholm syndrome and will eagerly keep watching, and the next time this montage rolls around you can bond in gushing over No Country For Old Men again. That's a great movie and a grand tradition.
Same time next year?
Troy
---