By Christopher Beam and Chadwick Matlin
With Super Tuesday looming, the past week has been as frenzied as any period in the presidential race so far. No longer courting one state at a time, the candidates have burned carbon and cash in record quantities, sometimes touching down in as many as three states in one day.
So, where have they visited and why? Here's a quick rundown of their travels, with links to maps of their paths, powered by Slate 's Map the Candidates . Click on a candidate's name to see where he or she has visited nationwide; click on a state to see the candidate's visits within that state.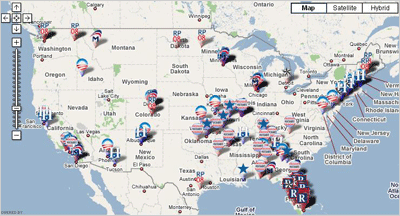 Hillary Clinton : If Clinton loses delegate-saturated California, it's her own fault. She made four full stops in the state (plus a debate appearance), compared with Obama's one town hall event last week. Yet, the more California sees of Clinton (or hears about Obama), the worse she does in tracking polls. Clinton also tried to protect her rapidly narrowing leads in Massachusetts , Missouri , and Connecicut —making two stops in each state. She wasted valuable time in Georgia, where Obama has a South Carolina-size lead in the polls. It appears Clinton damaged her African-American support outside of the Palmetto State, as well. Still, Clinton is the favorite going into Feb. 5, although Obama is gaining ground in nearly every state. To fight back, Clinton's ad buy covers almost all the Feb. 5 states.
Total states: 11. Total stops: 19.
Barack Obama : Obama has been a beast on the trail the last 10 days. After winning South Carolina, Obama has buzzed his way through 16 states but hasn't stayed long. He's held more than one stop in only two states ( California and Missouri ). Eight of the states he visited, Hillary Clinton never touched. (And five of which Bill Clinton never set foot in, either.) Usually favoring massive, 20,000-person rallies over intimate affairs, Obama's strategy has been simple: get his face in front of as many people as possible. Huge crowds turned out in Idaho , Minnesota , and Colorado . But that strategy means he can't linger long in any state, so he has supplemented his rallies with a massive advertising budget . Obama's Super Bowl ad buy was more impressive for its audacity than its content. All of this seems to be helping: He has seen his poll numbers jump nationwide and hasn't had a press day since South Carolina.
Total states: 16. Total stops: 18 (through Monday).
Mike Huckabee : Other than an extended, two-day stay in California, Mike Huckabee has barely left the South. He's made at least two stops in Tennessee , Georgia , Alabama , Arkansas , and Oklahoma (not to mention pre-Florida-primary stops in Missouri). Huckabee figures that if he can't capture the evangelical vote in the South, he can't capture any piece of the vote anywhere else. Plus, Huckabee's regional focus helps him efficiently run on whatever fiscal fumes he has left in the tank. If Huckabee were competing in the Democratic race with proportional delegate assignments, he would have a much better chance of lasting beyond Feb. 5. But in winner-take-all states, not even a concentrated focus will rescue Huckabee—even in the Evangelical South.
Total states: 7 states. Total stops: 21 (through Monday; not including stops in Florida).
John McCain : Ever since winning Florida, McCain has racked up more endorsements than a NASCAR driver. Rudy Giuliani has backed him, as has Arnold Schwarzenegger, Steve Forbes, Ted Olson, the Los Angeles Times , and seemingly every other mainstream paper in the country. His support in national polls is nearly double Romney's; he beats Hillary Clinton in head-to-head matchups . And with an influx of post-New Hampshire funds, McCain has the luxury of conducting a truly national campaign. His media team said it made a seven-figure ad buy, touting McCain as the " true conservative ," in all of the Super Tuesday states except Utah. States with lots of delegates— California , New York , Illinois , Massachusetts (Romney's home turf)—crowd his schedule. But he has also dropped in on winner-take-all states Delaware and New Jersey , plus Romney strongholds (a relative term, at this point) Georgia and Alabama . And whereas Romney has dispatched his family on the trail, McCain has real surrogates like Joe Lieberman and Forbes spreading the word.
Total states: 10. Total stops: 14.
Mitt Romney : Super Tuesday could well be Romney's last stand. The GOP primaries are largely winner-take-all, so whoever dominates is likely to emerge with a strong lead in delegates. In the past week, Romney and his jet-setting brood have focused on states with significant religious conservative populations, where McCain's lead isn't decisive. On Sunday alone, Mitt blitzed Missouri and Illinois , wife Ann visited Minnesota , and his son Josh campaigned in Colorado . He has also tried to chip away at Mike Huckabee's base in evangelical strongholds Tennessee and Georgia . The campaign's media strategy shows similar selectivity: Instead of blanketing all 21 GOP states with ads (as McCain is doing), Romney is buying spots in big markets like California, where they'll do the most damage. And of course he's banking on wins in Utah, where he attended the funeral of Mormon leader Gordon Hinckley on Saturday, and Massachusetts . If he can't count on those, he's in trouble.
Total states: 9. Total stops: 13.
Ron Paul : Rep. Ron Paul doesn't have Oprah or a Secret Service escort or two press buses tailing him. But after raising $20 million in the fourth quarter—more than any other GOP contender—he does have enough money to conduct a national campaign. Nevertheless, he has been selective. Over the past week, Paul has focused on states holding caucuses rather than primaries, since a relatively small number of caucus-goers can affect the outcome. He dropped by Maine , where he won 19 percent of the vote in the state's nonbinding caucus poll ; North Dakota , which is up in the air after its most devoted courtier, Rudy Giuliani, dropped out; Colorado , the biggest GOP caucus, with 46 delegates at stake; and Washington state, which doesn't actually caucus until Feb. 9 but furnishes 40 delegates. It's hard to say what happens if Paul's Super Tuesday performance disappoints; his national numbers are still hovering in the single digits, but he's not running out of money anytime soon.
Total states: 6. Total stops: 15.
---