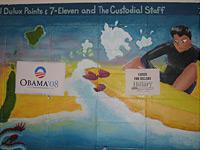 I show up at Kawananakoa Middle School, a central Honolulu caucus site, with Helen Chaochun. She has saved me from the tow truck by letting me leave my car at her apartment building. As we rush back to the school, Helen tells me she has never attended any sort of primary gathering since moving to Hawaii from Hong Kong 20 years ago. "But I like Obama," she lowers her voice to say, "so here I am."
"I think you're in pretty good company," I answer, for Helen and I have just stepped off the baseball field and into a sea of pure Obama.
At first glance, one might assume that the crowds have assembled not for a contested primary, but for one of Obama's big-time rallies. The vast majority of people lined up are decked out in Obama T-shirts and stickers and hats and pins. Supporters are walking up and down, waving Obama yard signs and passing out bumper stickers … and cookies and pretzels and drinks.
By the time I locate a Hillary supporter, she's already a seasoned interviewee. "I just told the AP guy that experience trumps everything," Cali Gregory says. "Hillary's problem," she goes on, "is not lack of supporters but lack of signage. I walked around the whole building looking for a Hillary sign, and I eventually had to pull this one off the wall." She defiantly waves the "Women for Hillary" sign that led me to her. "And the Obama people, they're handing out cookies and water everywhere. It just doesn't feel equitable."
"But you do have to give them credit for marketing," Roger Crow, another Clinton supporter, chimes in. Cali acknowledges this, then squeals when another Hillary backer walks up to introduce himself.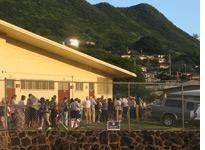 As we talk, the crowd grows. By 6:30 p.m., the line is snaking a quarter-mile past the cafeteria door. I can't see where it ends. It doesn't take the best political team on television to confirm that the turnout tonight is record-breaking for the state. In 2004, 4,000 Hawaii Democrats cast their ballots for John Kerry, already the presumptive nominee. This year, between Feb. 6 and Feb. 15, the Democratic Party of Hawaii registered about 5,000 new Democrats. Previously, the total for the whole party was 20,000.
The party got so overwhelmed by all this interest that at the end of last week, it shut down new registration until caucus night. Much easier to allow first-time Democrats to fill out a "wiki-wiki" voter-registration form and/or join the Democratic Party on the spot. Right?
Um, no. By 6:50 p.m., with countless fire-code violations in evidence inside the cafeteria, school officials decide to open up the auditorium to District 26. As this even-larger space fills up, one enterprising voter-turned-volunteer (loads of these tonight) takes the auditorium stage and begins calling out street names in an effort to corral the confused masses into the right precincts. (Each district is broken up into about six to eight smaller precincts.) "Magellan—over here! Punchbowl—stand by the exit sign! Ward Avenue—to the back!"
This system soon disintegrates, leaving District 26ers to throng back into the cafeteria to locate their precincts on a specially marked street map. Or to improvise, as in the case of one voter who frantically starts looking up his neighbors' precincts on his iPhone.
"I don't want to get in another line!" a woman chasing after her 3-year-old shouts at no one in particular. "This is the fourth line I've been in tonight!"
Another concerned citizen has taken over the microphone to announce: "Do NOT vote until you have registered as an attendee of this caucus! I repeat, do NOT vote before registering! If we have more ballots than registered voters on the sign-in lists, the results of this entire caucus will be invalidated! So please do NOT—!"
By 7:01 p.m.—that's one minute after the caucus officially opened—there are no more wiki-wiki forms in either the cafeteria or the auditorium. Other key items are also vanishing fast, like Democratic Party registration forms, voter sign-in sheets, and, yes, ballots. This last detail matters, since Hawaii's caucus—unlike most every other state's—is a secret-ballot affair, a formal "presidential preference poll" that state party officials use to determine the distribution of delegates. Not that the estimated 2,000 voters gathered here tonight are taking great pains to conceal their positions. They fall into two categories: those in civilian gear and those dressing for Change.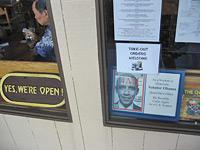 Resourceful school employees soon save the day with a dash to the Xerox machine. ("That guy deserves a medal of honor," one onlooker observes of Kawananakoa's principal.) Lise Choucair, a Canadian who planned to drop off her friend at the caucus and saw no choice but to volunteer after getting trapped in the parking lot, stands at the cafeteria door distributing forms still warm from the photocopier. "No idea where these came from," she says, "but they work."
Over the next half-hour, I hear the word chaos more than any other, as in "controlled chaos" and "chaos management." By 7:45 p.m., though, voters from District 26 have grouped into the correct precincts in the auditorium, while in the cafeteria, voters from District 27 are neatly lined up on the west side of the building, and voters from 28 are on the east.
By half past 8 p.m., the first precinct presidents are finishing up the ballot collection. The state's Democratic Party is shooting to release the caucus-by-caucus breakdown of results by March 1. We already know that in Hawaii's 1st Congressional District, which comprises urban Honolulu, Obama won by a 74 percent to 25 percent margin; and he did even better in the other congressional district, with a 77 percent to 22 percent spread.
Well before 9 p.m., voters are trickling back to the parking lot—and in good spirits, too. "Tonight's crisis is the result of all our enthusiasm," Obama supporter Susan Atwell tells me at the auditorium door. "But no one fainted. No one got punched in the nose. We all survived, because we're a laidback community." She smiles and looks around the slowly emptying space. "The aloha spirit got us through."
Susan pauses as a last speaker takes the auditorium stage. "I work here at the school," the woman says, "and we have an assembly here at 8 a.m. tomorrow morning. There are no custodians coming in tonight, so would everyone mind picking up a few pieces of trash on the way out?"
---