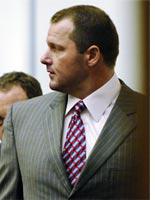 Roger Clemens was in Washington, D.C., on Tuesday to discuss his alleged use of steroids and human growth hormone with congressional lawyers in a closed-door interview. The legendary pitcher agreed to appear before the committee voluntarily, but he didn't have much choice. Had he refused, the lawmakers could have issued a subpoena and forced him to fly to Washington or face charges of contempt. Since Clemens had to make the trip, will the government pay for his ticket?
No. Even if a congressional committee forces you to testify in Washington, the government is not obligated to pay your way. The Committee on House Administration's handbook for such matters calls reimbursements to witnesses an "extraordinary measure" that must be authorized by the chair.
Aides for the House committee investigating Clemens say that call is based purely on the importance of the witness and how difficult it would be for him to appear otherwise. Because the decision rests with the chair, the majority party in the House has control over which witnesses can get reimbursed. This is almost always reserved for witnesses who lack the means to pay their own way, and is unheard-of for millionaires like Clemens. In the rare cases where the feds do cover travel costs, standard government rates apply. That comes out to 48.5 cents a mile traveling by car, and a daily rate for lodging and incidentals that can be as much as $265 for the Washington area. (Committee funds are also reserved for witnesses coming in from overseas or those who require aid, like minors and people with medical conditions.)
The judicial branch is a little more lenient. Witnesses in federal trials need only fill out this form (PDF) and submit it to the prosecutor who subpoenaed them in order to be reimbursed. They get a gratuity of 40 bucks that congressional witnesses do not, plus similar travel fees, which vary regionally.
Got a question about today's news? Ask the Explainer.
Explainer thanks the Project onGovernment Oversight, the House Committee for Oversight and Reform, Congress Watch, and George Washington University law professor Jonathan Turley.
---