If you were watching last night's Democratic debate closely, you probably noticed that Dennis Kucinich was not there.

That's because, in the hours leading up to the debate, the Nevada Supreme Court ruled that NBC did not have to allow Kucinich to participate. The decision overruled a district court judge's order that the network include Kucinich.

Ultimately, the high court decided that the lower court didn't have the power to force NBC's hand. Here's an excerpt from the decision: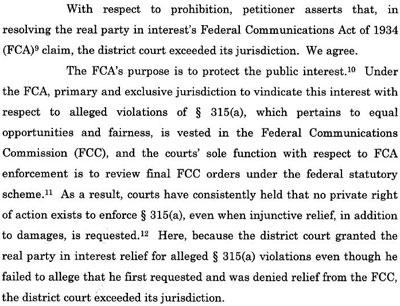 In other words, Kucinich should have complained to the FCC, not a local court. A footnote later explains that the lower court's attempt to exercise prior restraint on NBC is a violation of the First Amendment and therefore unconstitutional.

With respect to Kucinich's second claim—that NBC violated its contract by going back on its initial invitation—the Supreme Court decides thusly: "We conclude that the district court manifestly abused its discretion in determining that a contract existed between the parties." A contract by definition requires "an offer an acceptance, a meeting of the minds, and consideration. Here, the element of consideration is absent." That's basically a fancy way of saying they never made a deal.
The decision isn't just a rebuke of Kucnich's complaint. It seems to rather harshly criticize the thinking of Senior Clark County District Court Judge Charles Thompson. (The court "manifestly abused its discretion.") In retrospect, his musings about "fairness" and opposing viewpoints turn out to be as flimsy as they sounded at the time .
Kucinich is still getting his platform, albeit a smaller one. This morning, he appeared on the radio show Democracy Now! with Amy Goodman, where they replayed the audio from last night's debate, pausing it to allow Kucinich to answer the questions as well. You can listen and read the transcript here .

---