The rules for the Nevada Democratic caucus, to be held on Jan. 19, allow certain registered voters who normally would caucus in their neighborhood precinct to caucus instead at one of nine hotel/casinos along the glittery Las Vegas Strip. The exceptions are granted to shift workers—roulette spinners, showgirls, spa attendants, etc.—who labor within a two-and-one-half-mile radius of the Bellagio, Caesars Palace, the Flamingo, or one of six other participating establishments.  
Fearing a possible dilution of precinct votes, the Nevada State Education Association, a teachers' union, just filed a lawsuit seeking to shutter these "wild-card" caucus sites. According to a delegate-selection plan agreed to months ago by the Nevada Democratic Party, the defendant in this case, Clark County neighborhood precincts are allotted one delegate per 50 registered voters, an outcome determined by mathematical formula. The ratio at the casino sites, however, will vary depending on attendance. The teacher's suit, which appears to favor Hillary Clinton, was brought two days after the Culinary Workers Union—many of whose members work in casinos—endorsed Barack Obama. Clinton has denied that the 11th-hour plaintiffs are her supporters, but Obama's campaign has distributed a letter from dissenting Nevada teachers that states, "This lawsuit is all about politics.It's widely known that many of our union's top officials support Sen. Clinton."
Arguing that "the Democratic Party of Nevada would inadequately represent the [ Democratic National Committee ]'s interest," the DNC has motioned the court to be included as a defendant (see below and the following five pages). Federal Judge James C. Mahan, who was nominated to the bench by George W. Bush, will hear the case Thursday.
Got a Hot Document? Send it to documents@slate.com. Please indicate whether you wish to remain anonymous.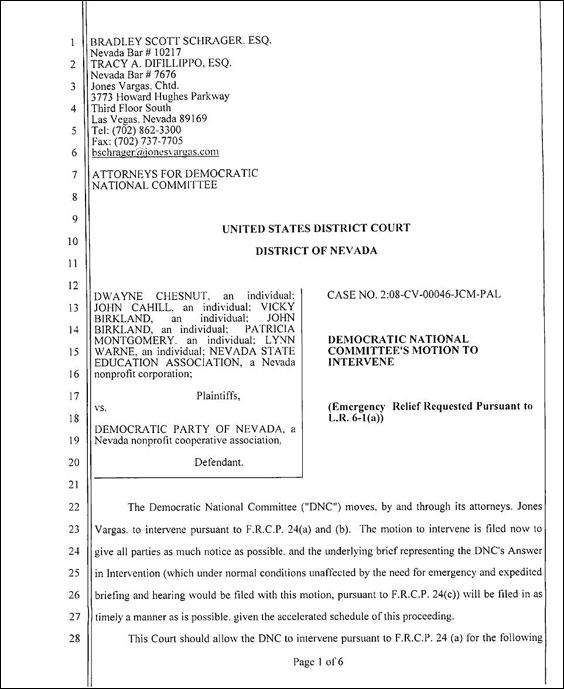 ---