In a rare occurrence, I visited Duncan Hunter's Web site today to see if it still hadn't been updated in months . Surprisingly, it had. By a hacker.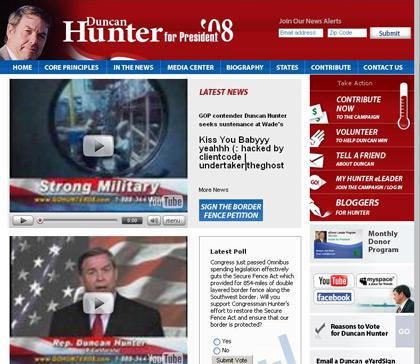 In the scrolling news marquee, a team of hackers who go by the handles clientcode, undertaker, and theghost left a message for all of Hunter's American fans: "Kiss You Babyyy yeahhh (:"  
Is that the best they could come up with? How about, "Duncan Hunter is a one-delegate farce," "Duncan Hunter supports an Iraq war that's killed hundreds of thousands of people," or "Duncan Hunter, you're a God-fearing slimeball. Drop out of the race." If you're going to hack the man's site, at least do it with a little panache.
This isn't the first time Hunter's site has been hacked, according to campaign manager Roy Tyler. He told me that a few days ago, Turkish hackers got into the site and left a message in Arabic that blasted Hunter for his pro-Iraq record. It was also hacked about a year ago. Tyler said the campaign expected to be a hacker target, so they took extra security precautions, but to no avail. When I called, Tyler said the campaign was unaware of the latest hack, but I later found out his tech team was already on it, and it was fixed it a few minutes later. 
Trailhead found people on the Internet bragging about the hack that occurred earlier this week. A hacker congregation site, Turk-h.org , seems to suggest that someone going by "ayyildiz" attacked the site because of "politik sebepler" or "political causes" (according to a Turkish-English translation done by a friend). But it looks like different hackers (clientcode, undertaker, and theghost) got into the site this time. If my very uneducated assumptions are correct, it looks like ayyildiz is a prolific hacker, defacing over a thousand sites according to his profile on turk-h.org. The names "clientcode" and "undertaker" also appear frequently on various hacker forums.
But of all the sites on the Internet, ayyildiz picked Hunter's to defame. He now joins the illustrious ranks of topsexxxlinks.com and turtle-pictures.de. But look on the brightside, at least somebody somebody cares about Hunter's political beliefs.
With Chris Wilson.
---