BEIJING, Oct. 26—Urban improvement has finally, this fall, reached the alley where we live. I should say here that it is not a particularly charming or pleasant alley. Writings about modern Beijing are full of celebrations of and eulogies for its alleys—the hutongs, gray mazelike lanes laid out centuries ago, which are being cleared out in swaths by developers' bulldozers.
This is the price of progress, and the dividend of progress is nostalgia. The map of the city is already layered with bygone places and things; interchanges on the Second Ring Road—Andingmen, Xizhimen, Jianguomen—are named for gates in the demolished Ming city wall, which the ring road replaced. Now history is on the fast march again, clearing the way for the city of 2008. As Beijing remakes or devours itself at its current pace, you don't need to be an old-timer or historian to be proprietor of your own personal lost city. If you've been here even twice, you can pity the first-timers for what they're missing.
And you can buy souvenirs. Weekends at the Panjiayuan flea market, you can buy posters of the old revolution, cheap. And old Mao buttons and statues, but also apolitical detritus: old cameras, old eyeglasses, old housewares, collected and speculated into curios of someone's idea of the past. (I like old trays of Chinese printers' type, myself.) East and south of the Drum Tower is a T-shirt shop called Plastered that specializes in a sort of anticipatory retro. There are shirts with red ovals reading "1.20," the discontinued rate sticker from the discontinued low-end Xiali taxicabs. In the old days (three years ago?), I rode in Xiali cabs. I went looking for shirts with the iconic blue-and-white image of Beijing's paper Line 2 subway ticket—which as of a few weeks ago had become the former subway ticket, replaced by a four-color design. They were out of stock in my size. It seemed to me that they were giving too much space to a new line of Olympic-inspired, sports-themed shirts, and I caught myself brooding that the shop wasn't as good as it used to be, before.
The T-shirt shop is on an alley called Nanluogu Xiang, in a neighborhood of hutongs that have been not demolished but renovated. Preserved is not quite the word. The low courtyard houses lining the way are now coffee shops and boutiques, their crumbling gray bricks replaced with clean-edged new ones. The paving underfoot is flat and true; the alley has become a raceway for bicycles, electric bicycles, and bicycle rickshaws carrying visitors on genuine hutong tours.
Our alley is, as I said, not that kind of alley. It is outside the Second Ring Road, dumpy and undistinguished. It runs roughly east-west, at a sagging angle, failing to quite follow either the Liangma River above it or Dongzhimenwai Street below. There is no street sign, and our landlord claimed it had no name at all. It was three years before I figured out that it did have a name, which turned out to be "Dongzhimenwai Little Street."
If anyone ever tried any urban planning around our long block of Dongzhimenwai Little Street, it didn't take. Our building is an unadorned six-story walk-up, part of a residential complex for Chinese bank employees. To the west is the back gate of an expat compound, with Sino-suburban landscaping inside. To the east is a vacant lot, facing a collection of buildings that would be a vacant lot if anyone had bothered to knock them down.
Instead, they stand, in a jumbled triangle, 100 or 200 yards long on the alley side. There are picturesque, ancient gray-brick structures in there, to be sure, toward the back. Down through the years, they have been built over or shored up with red brick, concrete, white tile, corrugated metal. Some of the bricks are up on the rooftops, holding down filthy tarps over leaky tiles.
At the street level, the buildings serve as a retail strip—a long row of narrow storefronts, many with living space curtained off at the back. There is a butcher, meat sitting out on the counter, with a rag spinning from an electric motor to whisk flies. There is a dry cleaner, a tailor, a shop selling fried cakes, a shop selling electrical cords and batteries, a man roasting nuts and sunflower seeds.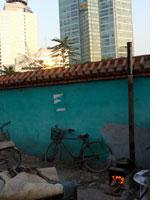 Across the way, along the blank wall of the vacant lot, people have parked bicycles, decrepit microvans, and battered flatbed tricycles and the things they haul: broken furniture, salvaged doors and windows, and unidentifiable bundles. An improvised stove made of bricks sits on the ground, with a kettle heating on a scrap-wood flame and a loose piece of pipe, pressed into use as a chimney, leaning against the wall. The row ends with a white minibus turned fruit stand, up to its windows in crates of melons and citrus.
Out on the main boulevard, the new Beijing has been rushing by, carrying off the past. It's not an abstraction, like the New China, but a specific set of physical changes—factual history, written with cutting torches and cement mixers. However the city may look during the Olympics and after, it will have been irrevocably altered. There's a mammoth new bus and rail terminal under construction, looming over Dongzhimen. (I remember when it was just a pit.) Opposite it is a Japanese-style shopping mall (where a gut renovation of an earlier mall destroyed my favorite supermarket) and yet another construction site (where before there was a bootleg-DVD shack, blaring music). This past summer, they shut off the Liangma River itself and repaved its concrete bed.
But till now, the alley was a backwater of clutter and neglect. The vacant lot, where I assumed someone was always about to build something, had grown into something almost pastoral. The stores changed at their own pace, by their own logic. At some point, the bicycle shop disappeared. The poultry-slaughtering shop, under threat of avian flu, replaced its pens with tubs and began slaughtering carp instead. After that, it became a restaurant selling food on skewers—part of an alleywide fad for skewers this year. At least eight stalls are offering either grilled skewers, known as chuan'r, or stewed ones, called ma la tang, served with cheap beer at rickety alleyside tables. Renewal it's not.
Then, about a week ago, I heard the rattling of chainsaws outside.
Over on the vacant lot, trees were coming down—full, mature trees, the last trace of whatever neighborhood had been there before. The logs were trucked out.
Beijing, it appears, is not overlooking anything after all.
Meanwhile, a crew set to work on the alley itself. Like most Beijing laborers, they had no uniforms to identify them; they wore miscellaneous pullovers and slacks, the usual work wear of a nation where work clothes are a luxury. For heavy equipment, they had a small front-end loader, which looked as if it had been cobbled out of tractor parts sometime around 1970.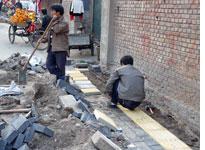 This was not a historical renovation. They broke up the pavement, leveled the dirt margins, and began to lay curbstones. Then, with mallets and string, they started installing the pavement blocks for a sidewalk. Or for the first few yards, two sidewalks, one on each side, as if Dongzhimenwai Little Street were a real thoroughfare. One sidewalk ends as the roadway narrows, but the other one keeps going along the alley wall, the length of the vacant lot. They are the standard-issue Beijing sidewalks, made of dark gray blocks, with a row of textured yellow ones down the middle to guide the handicapped.
The alley has borne the upgrade as best it can. The crew worked in sections, here and there, squeezing the sidewalk in as best they could. The cargo tricycles and mounds of stuff were cleared aside to make way for the new surface. Then they were moved right back. At dusk, a chuan'r vendor set up his charcoal burner on the freshly laid pavement, posting a menu on the alley wall.
Yesterday, with the other obstacles overcome, the sidewalk reached the back end of the fruit-selling minibus. I had been waiting to see what would give. Was progress a resistible force, after all? Or was the bus, against appearances, a movable object?
When I first saw it today, the bus was hunkered down a few yards down the alley from its usual hunkering spot. So, there was my answer. One answer, anyway. When I got home, the bus had resumed its old position. The sidewalk was under its wheels. If you just got here, you'd never know it had budged.
---