GOP presidential candidate Mike Huckabee's recent big jump in the Iowa polls  got him the cover of Newsweek and, inevitably, more scrutiny. Long considered a second-tier candidate, the former Arkansas governor recently received Willie Horton-variety criticism for his role in a 1996 Arkansas prison parole decision that freed a rapist who went on to murder a Missouri woman. 
More bad news for the Baptist minister came last week when the Associated Press reported on and released Huckabee's responses to its 1992 candidate questionnaire when Huckabee ran for U.S. Senate. The AP questionnaire (below and on the following two pages) asked candidates to identify their positions on a variety of issues. A few of the questions concerned the AIDS epidemic. Gay activists claimed, with much justification, that because a large proportion of AIDS victims were gay, AIDS patients were being discriminated against. But Huckabee wrote that he opposed treating the disease "as a civil rights issue." Four years earlier, a surgeon general's report had established that the AIDS virus was transmitted via the exchange of bodily fluids and that the use of condoms was effective in preventing transmission. Nonetheless, Huckabee insisted, "[W]e need to take steps that would isolate the carriers of this plague" (Page 3). Rather than increase federal research funding, Huckabee suggested that "multi-millionaire celebrities, such as Elizabeth Taylor, Madonna, and others who are pushing for more AIDS funding [should] be encouraged to give out of their own personal treasuries" (Page 2).
When faced with his 15-year-old answers, Huckabee toldFox News Sunday's Chris Wallace, "I'm not going to recant or retract from the statement that I did make."
Got a Hot Document? Send it to documents@slate.dom.  Please indicate if you wish to remain anonymous.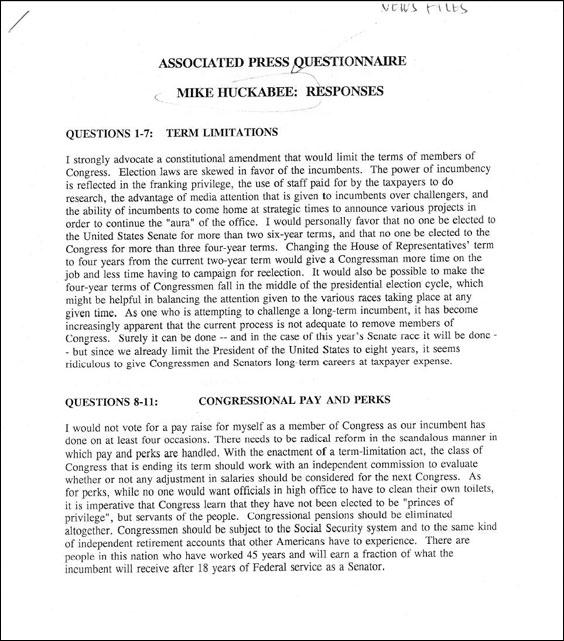 ---