On Dec. 13, former U.S. Sen. George Mitchell completed a 20-month investigation of Major League Baseball players' use of performance-enhancing drugs and released a 409-page report to Baseball Commissioner Bud Selig. Mitchell (who also negotiated the Irish peace accord) concluded that abuse of anabolic steroids and other substances has been "widespread" in the professional ranks of the national pastime for "more than a decade," and "poses a serious threat to the integrity of the game."
Tracking the "rise of the steroids era," the report notes that the problem first became a topic of media speculation in 1988, when reports surfaced that the Oakland Athletics' Jose Canseco was using steroids. Boston Red Sox fans taunted Canseco about the rumor (which Canseco later confirmed in a 2005 book, Juiced: Wild Times, Rampant 'Roids, Smash Hits, and How Baseball Got Big) during the 1988 American League Championship Series (below). By the summer of 2000, police and clubhouse employees had found steroids and hypodermic needles in MLB players' lockers and in the glove compartments of their cars (Page 2). Although Mitchell withholds the identity of a few drug users, the report lists 88 players  by name. 
The report includes one witness's allegations of steroid use by seven-time Cy Young Award winner Roger Clemens  (Pages 3–10). The witness, Brian McNamee, is a former trainer for the Toronto Blue Jays and the New York Yankees. McNamee says that in 1998 Clemens asked him "to inject him with Winstrol" (Page 4), and that he "injected Clemens approximately four times in the buttocks over a several-week period with needles that Clemens provided." The shots were administered in Clemens' hotel room. When Clemens was traded from the Toronto Blue Jays to the New York Yankees, he persuaded the club to hire McNamee too, and "during the middle of the 2000 season," according to McNamee, "Clemens made it clear that he was ready to use steroids again." McNamee says he "injected Clemens in the buttocks four to six times with testosterone" and the same number of times with human growth hormone. McNamee says he again injected Clemens with steroids during the 2001 season, but that the pitcher declined the growth hormone because he disliked "the bellybutton shot" (Page 8). McNamee eventually left the Yankees but continued to train Clemens until 2007. Clemens declined an invitation from Mitchell to respond to McNamee's allegations (Page 10).
Got a "Hot Document"?  Send it to documents@slate.com.  Please indicate whether you wish to remain anonymous.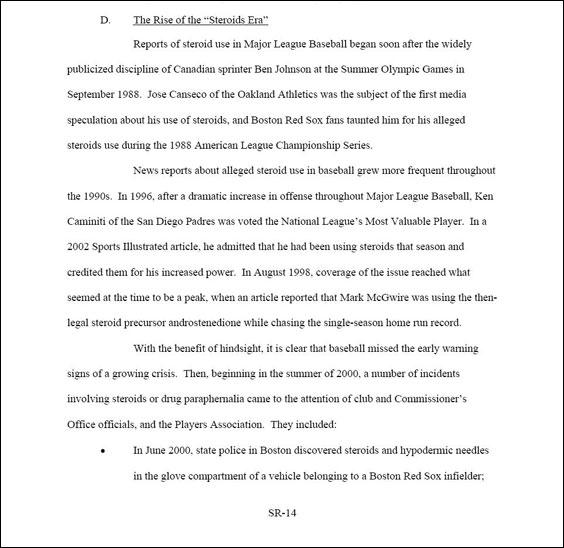 ---