One day after the Dec. 27 murder of Pakistan's former prime minister, Benazir Bhutto, the government of President Pervez Musharraf released a transcript (below) of a telephone call that blames her assassination on Taliban terrorists with ties to al-Qaeda. The conversation (translated from Pushto to Urdu and then to English), between tribal leader  Baitullah Mehsud and another militant identified as "Maulvi Sahib" (religious leader), was recorded in an "intelligence intercept" by the Musharraf government, according to Interior Ministry spokesman Javed Iqbal Cheema, and was released to the Associated Press of Pakistan. The transcript quotes Mehsud as saying, "They were really brave boys who killed her." Bhutto, who was often threatened by militants and was the target of an assassination attempt in Karachi two months ago, had accused the Musharraf government of failing to provide her with adequate security.
Calling the allegations "government propaganda," a spokesperson for Mehsud denied the claims: "The fact is that we are only against America, and we don't consider political leaders of Pakistan our enemy. The suicide attack on Benazir Bhutto was not launched by us."
Got a Hot Document? Send it to documents@slate.com. Please indicate if you wish to remain anonymous.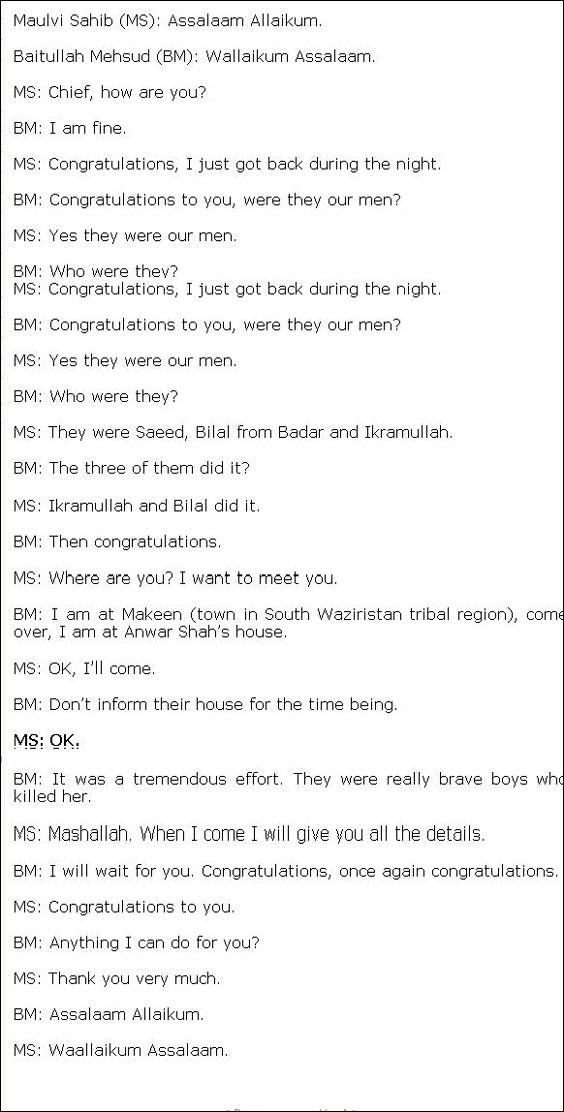 ---