In 1989 Nada Nadim Prouty, a 21-year-old Lebanese student, arrived in the United States. She married a U.S. citizen the following year, was naturalized four years after that, and by 1999 had landed a job with the FBI. In 2003, Prouty moved over to the CIA.
In a plea agreement released Nov. 13, Prouty admitted in U.S. District Court that she'd conspired to defraud the United States, to commit naturalization fraud, and to perform unauthorized computer searches—i.e., she looked up FBI files that mentioned her name and those of her sister and brother-in-law, who owned a successful Detroit-area restaurant chain called La Shish. In Prouty's guilty plea (excerpt below) she describes her "marriage fraud" (she faked her marriage  by paying a U.S. citizen to be her husband) and how she "defrauded" the FBI and the CIA when they hired her. The "factual basis" for her plea describes how, on an FBI computer, she looked up information about the terrorist organization Hezbollah. She "was not authorized to do so because she was not assigned to work on Hezbollah cases."
A Justice Department press release doesn't say what Prouty learned about Hezbollah, but it does relate that her brother-in-law, Talal Khalil Chahine, "is currently a fugitive believed to be in Lebanon." In 2006 Chahine and his wife were charged "in connection with a scheme to conceal more than $20 million in cash received by La Shish restaurants" and route the funds to Lebanon. Prouty's sister is currently serving 18 months in federal prison. But according to sentencing guidelines, Prouty herself will serve a maximum of nine months. As part of her plea agreement, Prouty is forfeiting her citizenship and resigning from her CIA job.
Thanks to www.debbieschlussel.com for posting the plea agreement.
Got a Hot Document? Send it to documents@slate.com. Please indicate whether you wish to remain anonymous.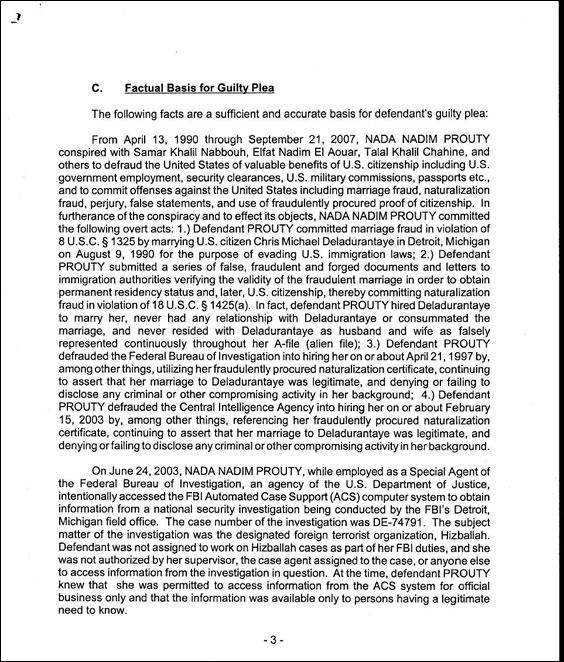 ---