Marine Lance Cpl. Matthew Snyder was killed in Iraq's Anbar province in March 2006. His family arranged to have a quiet memorial ceremony at St. John's Catholic Church in Westminster, Md. When they arrived, however, they were met by picketers from Westboro Baptist Church of Topeka, Kan., whose small fundamentalist congregation consists mostly of the extended family of its founder, the Rev. Fred Phelps Sr. The picketers' signs said, "God Hates You," "America Is Doomed," "You're Going To Hell," "Pope in Hell in Westminster, Md.," and "God Hates Fags." According to a  civil complaint filed by the slain soldier's father, Albert Snyder (excerpts below and on the following four pages), Westboro Baptist congregants have previously been observed at military funerals proclaiming, "Thank God For Dead Soldiers" and "Semper Fi Fags" (click here and here for their upcoming picket schedule). On its Web site (other church sites can be found here and here), Westboro Baptist addressed Matthew Snyder's parents directly: "You had a DUTY to prepare that child to serve the LORD his GOD—PERIOD! You did just the opposite—you raised him for the devil!"
Members of Westboro Baptist Church didn't know the fallen soldier or his family. The protest was part of its hate campaign to disrupt military funerals, claiming First Amendment protection to denounce what it deems the military's unacceptable leniency toward homosexuals ("The American Army is a Fag Army!!"). This time, Albert Snyder  fought back, charging Phelps and his church with invasion of privacy and intentional infliction of emotional distress. Although Phelps denied the allegations, last week a jury awarded the Snyder family punitive and compensatory damages of $10.9 million, an amount that will likely bankrupt Westboro Baptist.  Unrepentant, Phelps says he will appeal the verdict.
Got a Hot Document? Send it to documents@slate.com. Please indicate whether you wish to remain anonymous.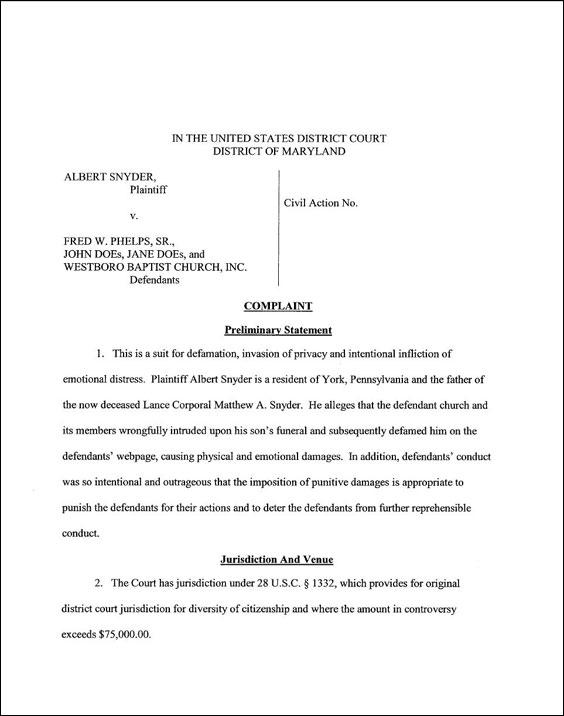 ---