In early October, the streets of Rangoon were cast with a kind of calm that was eerie only in contrast. On downtown sidewalks, where the Burmese army gunned down protesters days earlier, people now hawked melons, fishing reels, and Avril Lavigne T-shirts. The area near Sule Pagoda, familiar from video footage of the shooting death of Japanese photojournalist Kenji Nagai, was now just another pedestrian passage, with gabbing cabbies and open-air noodle shops giving the place a lively air. The atmosphere betrayed little disquietude at the violence that shook downtown mere days before.
At first, anyway. Gradually, hints emerged, such as the conspicuous absence of monks—striking in a city in which maroon robes are a ubiquitous sight. In early October, Rangoon's many monasteries were said to be under military lockdown, with monks detained each night.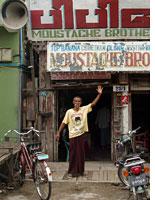 "The military raids monasteries at midnight. Many monks [have been taken] away," comedian Lu Maw told me from his Mandalay home. Monks aren't the only ones subject to nighttime arrests, though. A member of the celebrated Moustache Brothers troupe, Lu Maw stood by as his comedy partner Par Par Lay, a Burmese celebrity and bugbear of the regime, was arrested Sept. 25 while cooking for monks in a religious community hall. 
Almost in place of the monks were the soldiers in red bandanas, who manned Rangoon's and Mandalay's roadblocks and roved the streets in flatbed trucks. This particular shade of red was freighted with menace. While soldiers with green or yellow bandanas are authorized to beat and arrest, those wearing red ones may also shoot, as tourism industry worker U Soe Thein*, who witnessed the protests from a downtown office window, explained.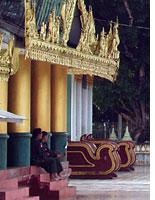 Another hint was the desolation of Shwedagon Pagoda, one of Burma's holiest sites and the setting of several demonstrations. A day after it reopened, only about 40 people strolled the marble grounds, almost all of them either army or military police, most armed. Despite the emptiness, one shrine got more action than the rest. A small but steady line of people gathered to worship at the shrine for those born on Tuesday, such as democracy leader Aung San Suu Kyi. 
Suu Kyi, whose support for democracy in the face of the oppressive military government known as the State Peace and Development Council won her the 1991 Nobel Peace Prize, continues to be a powerful symbol for everyone I talked to. However, most said they worried that she could effect little change from isolation—she has been under house arrest for 12 of the last 18 years. 
"We don't really know who could save us. We thought in 1988 [when democratic elections were announced] that it was a turning point," said U Soe Thein, who is in his mid-30s, referring to pro-democracy demonstrations that took place in August of 1988, shortly after then-leader Gen. Ne Win announced democratic elections. The current military government seized power in August of that year when it imposed martial law (though it's thought that Ne Win probably called the shots behind the scenes until his 2002 death), eventually massacring thousands in crackdowns on peaceful demonstrations. The junta's rule continued after it refused to recognize the results of the 1990 elections, in which the Suu Kyi-led National League for Democracy won more than 80 percent of the parliamentary seats.
"[Now] the outside world can't do anything," said U Soe Thein. "Sanctions limit the movement of the government but [create a] hard life [for Burma's] 50 million people." 
He was referring to the U.S. government's 2003 ban on investment in Burma. While sanctions helped bring down the apartheid regime in South Africa in the 1980s, the strategy remains controversial. Though championed by Suu Kyi, many I talked to said they worried that the resulting poverty for most Burmese outweighed the possibility of bankrupting the SPDC. Others pointed out that most of China's multibillion-dollar investments flow into government coffers. "Sanctions have driven us into the arms of China," said former economics professor U Thuang*. 
China clearly holds considerable diplomatic sway with Burma's military regime, giving particular significance to China's Oct. 11 signing of a U.N. Security Council resolution censuring the SPDC for September's violent crackdown. The statement stopped short of sanctions, but called for the release of political prisoners and "genuine dialogue" with Suu Kyi. 
China is Burma's second-biggest trading partner after neighboring Thailand, according to Burma's Ministry of Commerce figures from last year. Some Burmese I talked to resented China for exploiting Burma's vast natural resources, which include huge gas and oil fields and extensive teak forests to the north. Others welcomed the economic benefit of trade with China. "I like China," said 20-year-old Ko Aung Zaw*, who had protested in Mandalay the week before I met him in his hometown of Bagan, where he had returned after universities had been shut down due to the demonstrations. "Their motorbikes are cheap," he said, referring perhaps to the shiny black Yinxiang that he drove.
His Chinese wheels also get good gas mileage, which is important these days. In mid-September, the government doubled the price of gas rations, making even bus travel prohibitively expensive. "Some people [have] quit their jobs because their salary … is not worth the commute," said U Soe Thein. 
While the government is infamous for its criminally inept fiscal mismanagement, this jacking up of gas prices wasn't mere whim. More than a year ago, a division of the government formed an independent panel of former academics and diplomats to assess the feasibility of using price hikes to underwrite a salary increase for Burma's 1.5 million civil servants. One-time U.N. economist U Myint, who was on the committee, said he and his colleagues roundly rejected the idea. "This thing is rubbish,' I said. 'It's going to hurt people, not solve anything.' " 
U Myint says the price increase was motivated by the SPDC's 2005 relocation of the nation's capital from Rangoon to the drab inland town of Naypyidaw, which is both expensive and unpopular with civil servants. The panel rejected the plan and had nearly forgotten about it when, two months ago, they found their names signed to an endorsement of the price hike. Despite their protests, the measure was implemented a month later.
The resulting demonstrations could hardly have come as a surprise to the government—protests spurred by high commodity prices pepper Burma's history. The move suggests an urgency to placate its administrative foundation, if not its citizenry, which can "easily be stopped with bullets," as U Soe Thein put it.
Economist U Thaung says that the rank-and-file military is unsettled by having to kill civilians and monks. "Maung Aye told them to shoot, and they didn't do it for a long time," he said, referring to the second-in-command general about whom little, aside from a weakness for neat cognac, is known. If change is to come, says U Thaung, it will come from within the military itself—probably from a "young Turk" who will channel popular discontent into support from the military for the ouster of top general Than Shwe. 
"I'm counting on the military to get rid of [Than Shwe]," said the professor. "Even colonialists never shot a monk," he said, referring to Britain's harsh colonial occupation of Burma that lasted until the late 1940s. "They don't say it, but [the military is] deeply unhappy," U Thaung said.
*Names changed because they spoke on condition of anonymity.
---