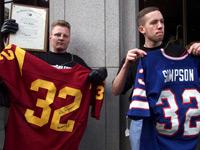 Las Vegas detectives arrested O.J. Simpson on Sunday for participating in the armed robbery of two sports-memorabilia dealers in a room at the Palace Station Hotel and Casino. The former football star said he was trying to reclaim signed collectibles like books and photographs, as well as his wedding video, photos of his kids and former wife, and the suit he wore when he was acquitted of two counts of murder in 1995. How much is O.J. memorabilia worth these days?
Less and less for most items but a lot for rare pieces of history. Despite all the negative press around Simpson, top-quality Simpson memorabilia can still fetch relatively high prices. Fans who are dead set on completing their prized collections—of signed jerseys, cards, etc.—will pay a high price to buy the Simpson collectibles, no matter how unpopular he becomes with the general public. The personal belongings that Simpson seems to have been after in Las Vegas might also attract collectors interested in celebrities or one-of-a-kind items. Memorabilia experts estimate that Simpson's suit could fetch anywhere from $5,000 to $25,000, and his wedding video could be worth six figures to tabloid magazines or television networks.
Nevertheless, many memorabilia experts believe that the murder charges against Simpson have reduced the value (or slowed the appreciation) of his trading cards, autographs, apparel, and game equipment. His Heisman trophy was worth at least half a million dollars at one point, but after a civil court judge's $33.5 million ruling against Simpson in 1997, it was appraised for $400,000. When the trophy was auctioned two years later, it fetched only about $230,000. By comparison, Heisman trophies for lesser-known players like Yale's Larry Kelley and Notre Dame's Paul Hornung have sold for more—about $250,000 for Hornung and $330,000 for Kelley.
Before Simpson's trial, one of his average game-worn jerseys typically sold for $10,000 to $15,000; today, that same item would be priced at $5,000 to $7,500. Meanwhile, many of the running back's autographs are worth almost nothing. That's not because of the murder charges, though. Simpson gave away free autographs to so many fans that there's now a huge supply of signed items in the market. It might cost just $25 to buy an 8-by-10-inch document with Simpson's autograph.
Sports stars that get into legal trouble or lose their fans usually see their memorabilia drop in value. Over the weekend, Barry Bonds' 756th home-run ball sold to fashion designer Marc Ecko for more than $750,000—nothing to sniff at, but experts say the ball would have gone for $1 million if it weren't for the suspicions of steroid use. The price for a bat that Bonds used in a game—$2,000 to $2,500—didn't change much even after he set the new home-run record; it should have jumped 25 percent or 50 percent after this type of achievement. Likewise, a steroids controversy also nudged down prices for Mark McGwire memorabilia. At his peak in 1998, his bats commanded more than $8,000 each; nowadays an unsigned McGwire bat goes for $2,500. Following Michael Vick's arrest for dogfighting, the Falcons player's game-used jerseys plummeted in value from as high as $5,000 to as low as $1,000.
Got a question about today's news? Ask the Explainer.
Explainer thanks Mike Heffner at Lelands.com, Dan Imler at SCP Auctions, and Troy Kinunen at Memorabilia Evaluation and Research Services.
---