For those not keeping a scorecard in the saga of O.J. Simpson's abortive book project, If I Did It,   Fred Goldman—father of Ron Goldman, who was murdered alongside Nicole Simpson in 1994—plans to publish the manuscript as part of the uncollected $33.5 million judgment awarded in a wrongful death  lawsuit against Simpson following the football star's murder acquittal. Simpson filed for bankruptcy to avoid paying Fred Goldman and the family of Nicole Simpson.
When the news of Simpson's "hypothetical" confession got out last year, even Simpson agreed the book earnings would be "blood money." Horrendous publicity prompted HarperCollins to cancel the deal, and the manuscript rights reverted to a shell corporation. Goldman successfully claimed rightful ownership of the book rights in a California court, whereupon the corporation, Lorraine Brooke Associates, filed for bankruptcy. Goldman promptly sued in bankruptcy court.
The family of Nicole Simpson has never been happy about the prospect that If I Did It might turn up in bookstores. When Goldman and the bankruptcy trustee reached a proposed settlement in which Goldman would purchase the manuscript, Nicole's father, Louis H. Brown, objected. Goldman's response (or rather, that of his attorneys) appears below and on the following seven pages. Goldman's side maintained that Brown was "seeking to crater the settlement agreement" and was "at best an unsecured creditor" (below) who needed to file "a valid proof of claim." Goldman's lawyers recounted that months before, when Goldman had first taken legal action to seize the book, Brown had chosen "to sit on his hands" (Page 6). By the time Brown filed his objection in July, Goldman had already "taken substantial steps toward monetizing" the manuscript (Page 7); for instance, he and his daughter had sent "hundreds of letters to publishers and literary agents." Goldman's lawyers further pointed out that "the actual beneficiaries" of Brown's judgment against Simpson—Nicole's children, Sidney and Justin—were 50 percent owners of the debtor corporation (Page 4). 
Goldman won. The notion that anyone could purchase a murder confession, "hypothetical" or not, may strike you as a little weird, but Goldman is guarding his publishing rights jealously. After the Web site TMZ.com briefly posted the complete manuscript (it quickly replaced that with a few excerpts from the manuscript, some of which had previously appeared in Newsweek), Goldman sought to have TMZ's owner, Time-Warner, declared in contempt. Last week, Goldman's book agent, Sharlene Martin, announced a deal with Beaufort Books to publish the book, now retitled If I Did It: Confessions of a Killer, with commentary from the Goldman family. In Amazon's mock-up of the cover, the word If is rendered in itty-bitty letters. Look for [If] I Did It in store windows in late September. Nicole Simpson's sister, Denise Brown, is urging the public not to purchase the book. *
Correction, Aug. 22, 2007: An earlier version of this piece repeated an erroneous report from the Web site Publishers' Marketplace stating that a Hollywood agent named Joel Gotler was brokering film and TV rights to If I Did It. Gotler advised Slate in an e-mail that "although I was approached, I am NOT, I repeat NOT the film agent on this book."
Got a Hot Document? Send it to documents@slate.com. Please indicate whether you wish to remain anonymous.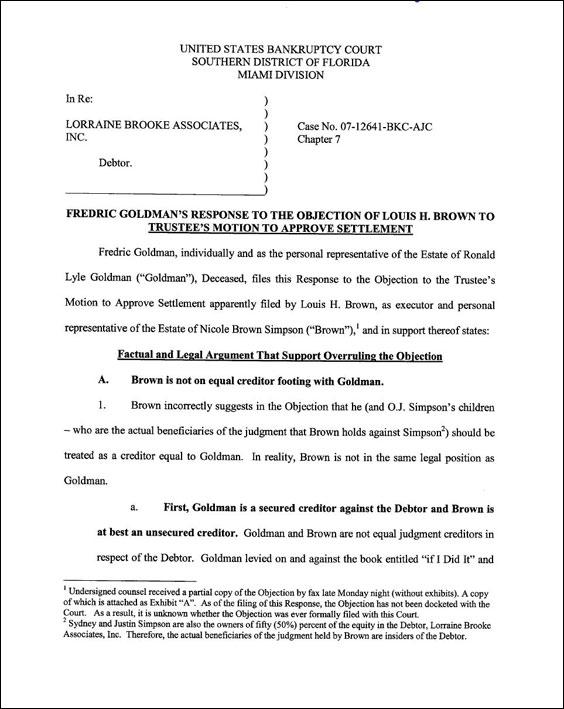 ---