Robert Olen Butler won the 1993 Pulitzer for fiction for A Good Scent From A Strange Mountain, but at the moment a different selection from Butler's oeuvre is attracting widespread notice within the literary community. That would be the e-mail he recently sent five graduate students (Butler is a professor of English at Florida State University) explaining in bizarrely fine-grained detail why his wife of 12 years, fellow novelist Elizabeth Dewberry, left him to be Ted Turner's part-time girlfriend. You can read the e-mail below (thanks to Gawker.com, which posted the full text, and to Mediabistro.com, which broke the story).
"Elizabeth has never been able to step out of the shadow of the Pulitzer," Butler explains calmly. "The multitude of small reflections of regard that came my way inevitably threw a spotlight on the absence of those expressions of regard for her." Also, "she was molested by her grandfather from an early age," and later suffered through a "decade-long abusive marriage." Dewberry, Butler explains, "says I saved her life. But de facto therapy as the initial foundation of a marriage eventually sucks the life out of a relationship." Dewberry is drawn to Turner, Butler further explains, because Turner reminds her of her childhood abuser. Pausing one passive-aggressive beat, Butler then reports that Turner himself "is far from being abusive."
To be sure, Butler writes, the man once known in yachting circles as Captain Outrageous already has "several girlfriends." But "it is a very small number, and he does not take them up lightly and he gives them his absolute support when he does. And Elizabeth's leaving me is as much about the three weeks a month she is alone as it is about the week a month she is with Ted."
On learning that Gawker had printed the text of his e-mail, Butler was outraged. It was, he fumed in an e-mail to Gawker, "intended strictly for those who personally know Elizabeth and me. … What a creepy little circle-jerk of self-righteousness you're running."
But Dewberry has made little secret of her marital frustrations. In discussing her fourth novel, His Lovely Wife, on her Amazon profile (see Page 2), Dewberry writes, "I married Robert Olen Butler in 1995. He's much more well-known than I am, and often … we were introduced as, 'Pulitzer-prize-winning author, Robert Olen Butler … and his lovely wife.' " Though well-educated and attractive, Dewberry "felt like I was disappearing."
Got a Hot document? Send it to documents@slate.com. Please indicate whether you wish to remain anonymous.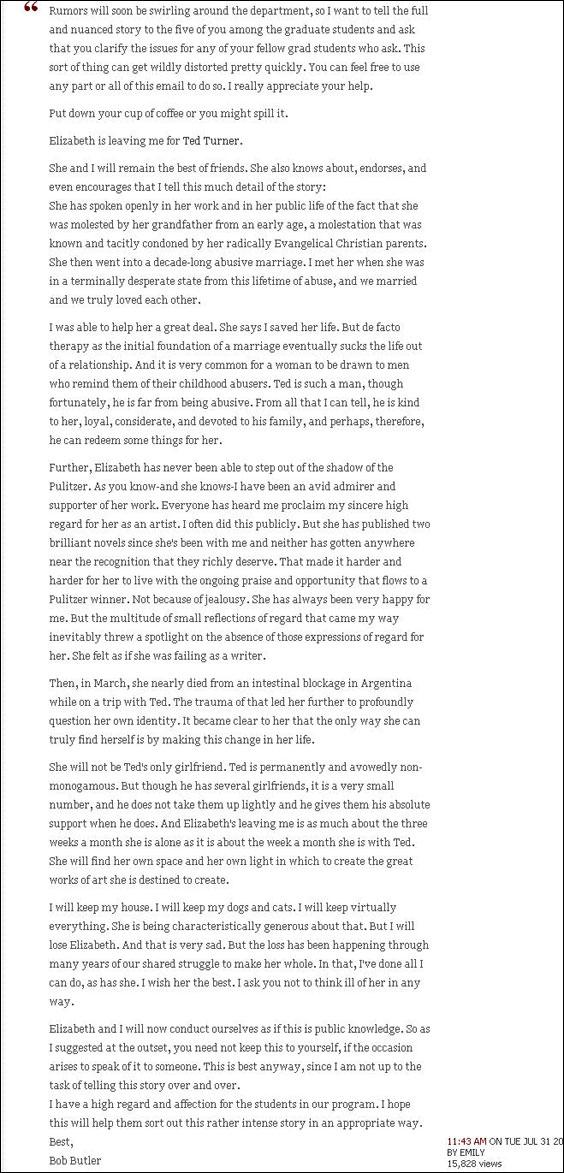 ---