Karl Rove, President George W. Bush's longtime friend and closest adviser, soon exits the political stage after an illustrious career begun in 1978  working for Bill Clements, Texas' first Republican governor in more than 100 years. Clements lost his re-election bid  in 1982, but with Rove's help, he won the office back in 1986. Before Rove joins the ordinary Americans the president meets in his travels, it seems fitting to revisit a Rove document held in the Clements archives at Texas A&M.
The 1989 memo from "Karl Rove + Company" (below) is an early example of the direct-marketing consultant's patronage, a request to Clements' appointments secretary, James R. Huffines, to add "two excellent young people" to the gubernatorial "talent bank." Though the actual "one page bios" of the candidates have been separated from Rove's cover memo, some record keeper helpfully wrote in the names of Rove's protégés. One of them just happens to be now-Attorney General  Alberto Gonzales, who was a Houston lawyer before becoming Texas secretary of state under Gov. George Bush. Gonzales, currently under fire for the U.S. attorney scandal, has not indicated when he'll also be  "moving on down the road."
Although Rove wrote Huffines that he and the candidates "met in the White House Fellows Program," neither Gonzales nor Rove are alumni.
Got a Hot Document? Send it to documents@slate.com. Please indicate whether you wish to remain anonymous.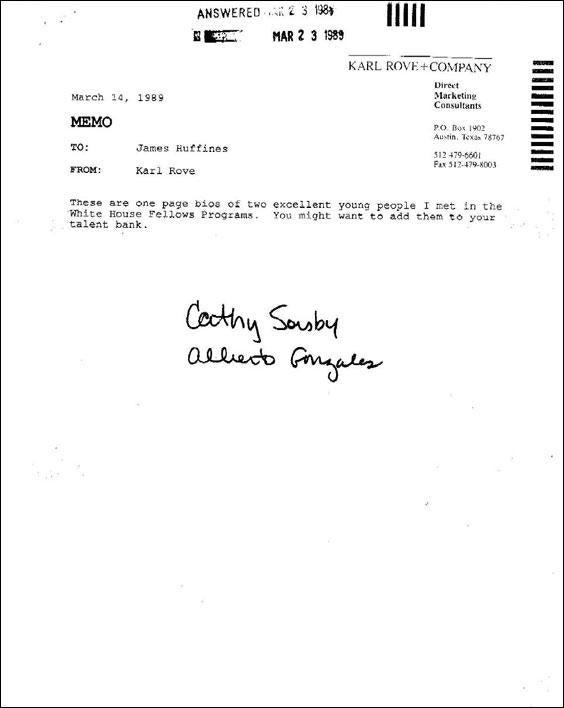 ---