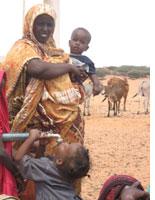 GOL GORUM, Somalia—The Aug. 23 story on the Reuters wire was short and to the point:
At least 18 Somalis died this week after a generator-powered well used by thousands of people in a semi-desert region broke down, elders said on Thursday. Some of the dead had drunk contaminated water after the electric-powered pump bringing clean supplies from deep underground stopped working. Others, left with no water at all, died of thirst.
Given the steady flow of reports about serious violence, indeed a guerrilla war, in Mogadishu—roadside bombs; the murder of prominent people; mortars hitting public gatherings, markets, and even hospitals—this infrastructure failure in the Dif district close to the Kenyan border could very easily have been overlooked. Water shortages are nothing new in the Horn of Africa. Besides, the place seems remote and is not on the way to anywhere. Who on earth goes to Dif? Or to Somalia, for that matter?
Indeed, who does go to Somalia? Nowadays, the only visitors to the country's capital are a few daredevils from international humanitarian organizations and hardly anyone else. Traveling to the northern part of Somalia is dangerous, but when there is a lull in the interclan conflicts, as there is now, it can be done.
A few weeks ago, I visited Gol Gorum, a village 150 miles northeast of Mogadishu, another place that owes its local fame to its borehole (a machine-drilled narrow well), which was once a source of water for roughly 7,000 residents and nomads. As I read the news report from Dif, my day in Gol Gorum appeared in hindsight to predict a disaster in the making. The well there is not yet broken, but it is in serious trouble.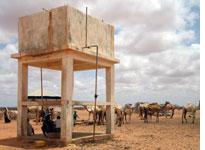 When we arrived at Gol Gorum, a village of a few thousand, we found several hundred desperate Somalis—locals and nomads alike—standing idly, empty yellow or blue jerry cans in hand. A few men were squatting under a long-unused water tower; children and camels gathered in the extremely short shadow of an almost empty water tank. Women in dresses as colorful as those worn in Darfur (this colorfulness always strikes me as somehow defying the tragedy that is happening around them) were patiently sitting on the cement tap stands where the faucets are located, covering their faces from the blowing dust.
In its heyday, the Gol Gorum pump produced 4,000 gallons per hour. Now, because the water table is extremely low (due to several very bad rainy seasons), it is a shadow of its former self. In practice, this means that the operator can make the generator extract water for precisely three minutes, during which time he can get 100 gallons pumped. Then he must wait for 57 minutes, until he can pump again for another three minutes. If it were allowed to run, the generator would burn out with no water to pump.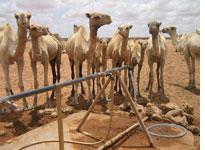 It was obvious that most of the jerry cans that had been brought that day would remain empty. I had doubts about the survival of some of the skinny camels (they drink 50 gallons at a time when they are thirsty), but I told myself that "somehow" the people would manage. Now I doubt they will.
Local Somali authorities are, of course, completely incapable of solving the problem. The country has not had any government, local or otherwise, for 16 years. The best that can be done for Gol Gorum is for "someone" to drill a new borehole, taking advantage of other components of the water system that are currently idle or semi-idle: generator, tank, and tower. At least Gol Gorum has a trained maintenance team and a well-organized committee overseeing the water distribution, collecting money for it, using that money to buy gas for the generator, and so on.
But drilling a new hole costs around $70,000 (money that must be found from foreign donors) and involves complicated logistics such as transporting the equipment, which is almost impossible, given the primitive state of the infrastructure, the general insecurity, and banditry on the roads—along with piracy at sea—that all hamper commercial and humanitarian transport. This "someone" arranging for the borehole to be drilled must be able to operate securely in Somalia. And in Somalia, the quintessential failed state, security is even scarcer than water.
The elders who informed the Reuters journalist about the broken-down well were speaking from Mogadishu, where they were attending the National Reconciliation Conference that is supposed to deal with precisely these security issues. The conference, which started in mid-July, ended Aug. 30. The only result is that Somalia is becoming increasingly volatile as supporters and opponents of the conference fight an urban guerrilla war. The Union of Islamic Courts, which ran Somalia for six months until December 2006, refused to take part in the conference, which was organized by the Transitional Federal Government installed with support from the Ethiopian army.
After my visit to Gol Gorum, all international nongovernmental organizations and even the UNHCR, the U.N. refugee agency, evacuated its staff from the regional capital of Galkayo because of a "credible threat of kidnapping" concerning the whole of the semiautonomous region of Puntland in the northeastern part of Somalia. After two weeks, Garowe, the next big town, 125 miles to the north, and Bossaso, farther north on the Red Sea coast, were declared "OK," but Galkayo remains on the no-go list for NGOs. These evacuations and shutdowns temporarily paralyzed most of the humanitarian work in the area.
Somalia needs water. But it needs peace, too.
---