Former Republican political consultant Roger Ailes joined forces with Rupert Murdoch in 1996 to create Fox News. Last week New York Times reporter Russ Buettner wondered whether presidential candidate Rudy Giuliani's status as a former Ailes client and long-standing friend had anything to do with Hizzoner's receiving 25 percent more airtime on Fox than his political rivals. Giuliani's campaign would not answer questions about the relationship, though "aides … said Mr. Ailes did not offer Mr. Giuliani any sort of political advice."
If Ailes were offering advice, what sort would it be? Possible clues lie in a 1970 Ailes memo, included among the Nixon library's latest releases, to White House chief of staff H.R. Haldeman and deputy assistant Dwight Chapin, both former executives at the J. Walter Thompson  ad agency. (See below and the following four pages.) The topic is how to improve President Richard Nixon's TV persona, a matter of no small concern to the president himself (see "Best-Ever Nixon Document"). The Ailes memo includes handwritten responses (presumably Haldeman's) in the right margin.
"At any outdoor event," Ailes advises, "the president must assume he's on camera at all times." Haldeman agrees: "You tell him." (See below.) Ailes also suggests, "I think he should wear make-up or at least beardstick … double above the upper lip," but Haldeman, still of a time when campaigns are staged as much for voters as for cameras, tells Ailes, "I disagree … he's going through a crowd" (Page 2). (Haldeman may also be remembering the famously disastrous application of a product called Lazy Shave to Nixon's five-o'-clock shadow before the 1960 debate, where the stuff melted on camera.) Ailes reports that before a recent television appearance, "I finally convinced the President to use a handkerchief … to wipe off perspiration" (Page 3).
On more sensitive ground, Ailes writes, "I think it is important for the President to show more concern for Mrs. Nixon." He  might well have offered the following observation years later when his friend Giuliani's marriage to his second wife, Donna Hanover, was disintegrating: "Women voters are particularly sensitive to how a man treats his wife in public" (below).
Got a Hot Document? Send it to documents@slate.com. Please indicate whether you wish to remain anonymous.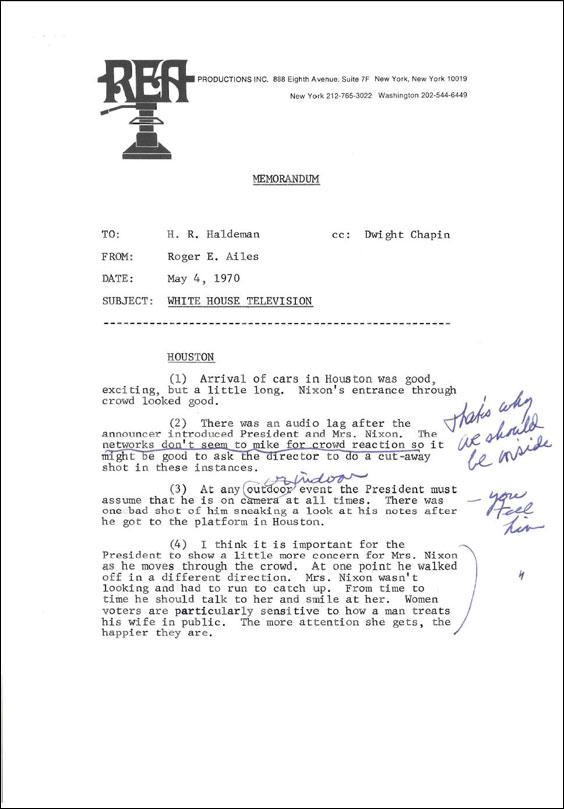 ---