At a July 17 hearing of the House energy and commerce oversight subcommittee, Rep. Ed Whitfield, R-Ky., asked four current food-safety officials with the Food and Drug Administration to rate, on a scale of one to 10, the quality of the FDA's food-safety inspections. The FDA employees' responses ranged from two to five. (The hearing is accessible via Webcast; Whitfield poses his question three hours and 50 minutes in.)
Asked to give his side of the story, FDA Commissioner Andrew von Eschenbach agreed that the agency had problems but assured the House members that he was working on it. It fell to Margaret Glavin, the FDA's associate commissioner for regulatory affairs, to defend her boss at the hearing (you'll find her brief testimony five hours and 12 minutes into the Webcast). Two days later, Glavin alerted all FDA staff in her management area—about one-third of all FDA employees—that she was "deeply saddened" to hear such "strong criticism of FDA's performance." In an e-mail (see below), Glavin let it be known that the criticism was "not accurate," adding, "I know that many of you were … disappointed and perhaps even angry" [italics mine] about the low scores given the FDA.
In the view of committee Chairman John Dingell, D-Mich., and subcommittee chairman Bart Stupak, D-Mich., Glavin's e-mail constitutes an act of intimidation against the four FDA experts who testified at the hearing. In a letter to von Eschenbach (Pages 2 and 3), Dingell and Stupak ask how the commissioner plans to discipline Glavin for her "contumacious conduct." 
Got a Hot Document? Send it to documents@slate.com. Please indicate whether you wish to remain anonymous.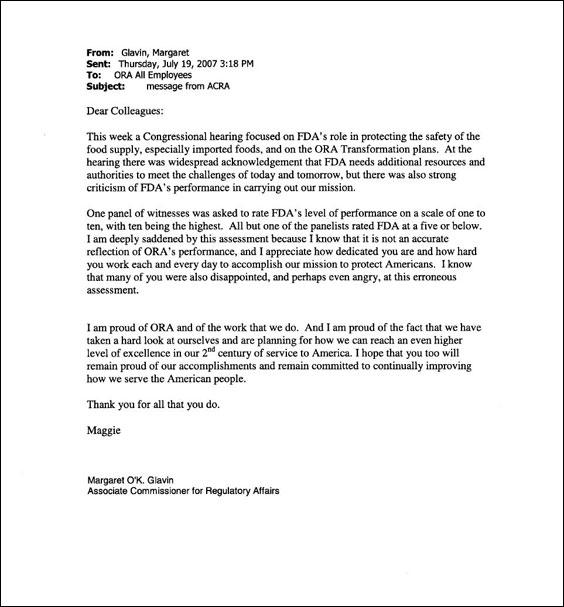 ---