United States senators seldom get their jobs in the manner of Frank Capra's Mr. Smith Goes to Washington, one day conducting the Jackson City Ranger Scout boy's orchestra and the next setting up shop in the U.S. Capitol. But that's more or less what happened to  John Barrasso of Casper, Wyo. When Republican Sen. Craig Thomas died in office on June 4, Barrasso and 30 other applicants rushed to fill out a two-page job application  (see below and the following seven pages). Barrasso, a Republican state legislator and orthopedic surgeon with previous experience as a "hot dog cook," "dump truck driver," and "county fair ticket seller" (Page 8) got the job.
In Wyoming, the governor is authorized to fill any Senate vacancy in a non-election year, but state law requires that the appointee belong to the same political party as the person he or she replaces. Since Wyoming Gov. Dave Freudenthal is a Democrat, the Wyoming Republican Party State Central Committee  assumed responsibility for making sure Thomas' replacement conformed with the state GOP platform. Republican Party Chairman Fred Parady (below) and other Republican central committee members, through an elaborate process of elimination, chose three finalists. From these, Gov. Freudenthal selected Barrasso.
Barrasso's application lists his employment (member of the Wyoming state senate and partner in a seven-member orthopedic surgery group); highlights his party loyalty ("two decades … as treasurer, national committeeman and delegate"; see below); his availability ("ready willing and able to do a great job"); and his enthusiasm (plans to "hit the ground running"). In his "statement of interest" for the position of "United State [sic] Senator" (Page 4), Barrasso includes his political ideology ("limited government, lower taxes, less spending, traditional family values") and his legislative record (sponsored bills "to protect the sanctity of life" and "voted for prayer in schools," and "against gay marriage").
Sen. Barrasso's gubernatorial appointment  will last through next year; in Nov. 2008 Wyoming will hold an election to choose a senator to serve through January 2013, when  Thomas' term  expires. Barrasso plans to be a candidate (Page 5).
Got a Hot Document? Send it to documents@slate.com. Please indicate whether you wish to remain anonymous.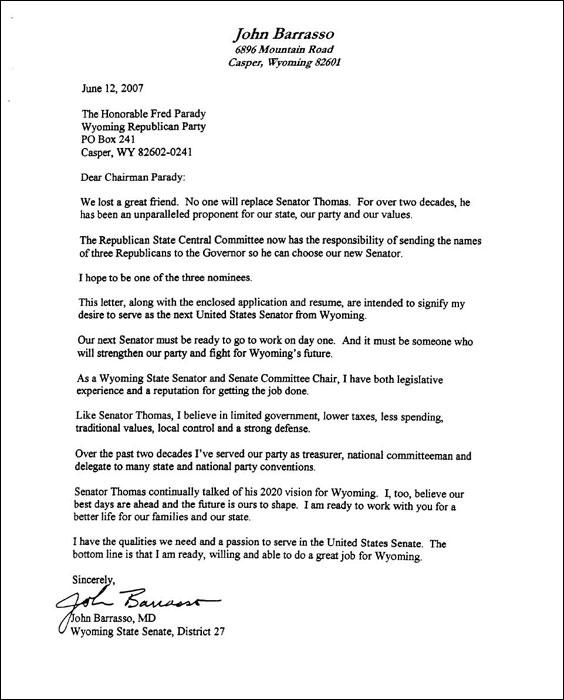 ---