GAZA CITY—Walking around the surprisingly grim prison once run by Fatah's Preventive Security Force with its new custodians—a handful of young Hamas gunmen—I failed to notice "Ahmed" at first. His tracksuit and sandals didn't stand out among the blue uniforms of the Hamas Executive Force police, because casually dressed fighters and political officials from the Izzidine Qassam Brigades—Hamas' military wing—were also using their new prison, arriving in pickup trucks with small groups of stoic but terrified Fatah officials they'd just arrested.
After a quick tour of the modern gallows—which, I was told, had been used to great effect on Hamas activists in the 1990s by Mohammed Dahlan, Fatah's top commander in Gaza—we then moved into the tiny cell blocks, with their stink of urine, sweat, and rotting food.
I asked to see a cell with actual prisoners in it, and suddenly Ahmed—not his real name—announced that I was welcome to visit his. It seems that just as I had arrived, so had Ahmed. A convicted murderer, he had fled the building during last Thursday's battle between Hamas and Fatah, as had most of the prisoners. (Last week the jail was run by Fatah; now it holds them.) But unlike the rest of the escaped jailbirds, Ahmed had chosen to return to serve out his sentence, even though it was clear that no one was looking for him yet.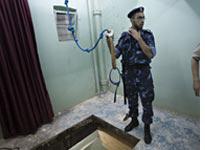 Talk about a commanding presence: Hamas doesn't even have to hunt down murderers. They just show up and are treated like old friends before being locked away once again, most likely for life.
So, this is the new Gaza, where Hamas is pursuing a policy of affable law and order. The Fatah officials brought into the jail by the Qassam fighters might not see it that way, but on the once-horrifically dangerous streets of Gaza City, things have become unsettlingly normal in just a few days.
Until last week, every corner of the Gaza Strip was home to a loitering group of chebab (guys) armed with automatic weapons and answering to one of the nearly 20 militant and security factions. Criminal activity, extortion, and outright violence tended to be their modus operandi. On the surface, the new Hamasistan looks a lot safer and better regulated than Gaza has appeared since the Israeli withdrawal in the summer of 2005.
Sure, some gunmen remain, but they're all in Hamas uniforms, and the leadership has banned the infamous black ski mask. (Hamas leader Ismail Haniyah said militants should don masks to fight Israelis but not when patrolling the streets of Gaza.) So, people can now see the faces of their police officers. But in most cases, it's not gunmen doing law enforcement, it's a collection of unarmed men in Hamas hats and bright safety vests that say Police in English and Arabic. They provide traffic control, investigate petty crimes, and offer a general nonthreatening sense of security not provided in the past by surly masked gunmen with uncertain political (or ethical) affiliations.
Smart readers will be waiting for the "but" in this story. And Gaza currently has a big "but." The semblance of normalcy on the streets belies the fundamental problems at work in this tiny, conservative coastal strip. Gaza and its 1.5 million people appear destined, at least for the moment, to be cut out of any political process involving the Palestinians. Not to mention cut off from government funds and humanitarian resources, and barely able to travel in or out of the strip. Even the Israeli fuel company that provides gas and oil for generators is operating on a day-to-day basis. If they cut those supplies, people will run out in a matter of hours, and hoarding supplies of fuel and food grows less possible each day.
Perhaps even more frightening for the people of Gaza is the sickening sense that things are about to get really bad, which they certainly will. It's just a question of which direction the fresh hell will come from.
Initially, Hamas tried to halt all rocket attacks into southern Israel for fear of drawing retaliation. Call them terrorists if you will, as Palestinian President Mahmoud Abbas did Tuesday night, but Hamas takes its role as an old-school local political machine seriously. It might not be the Bush administration's ideal democracy, but even a group like Hamas needs to keep the people happy in order to be effective.
Hamas is also politically astute enough to know that the arrival of newly designated Israeli Defense Minister Ehud Barak, the most decorated man in the history of the Israeli military, means that it's hard to predict the Israeli response to attacks. Hamas' leaders are acting like careful politicians who might want to fire off 100 rockets a day but would prefer to figure out what the response would be if they did. So, at first, they tried to play it cool.
Islamic Jihad, perhaps the best-organized and best-armed Palestinian militant group, doesn't fight other Palestinians as a rule. But it also eschews cease-fires against Israel, no matter who asks. Islamic Jihad stayed out of last week's conflict with Fatah security forces, but when the smoke cleared, and the victor was a militant anti-Israeli group, the IJ fighters were ecstatic and expected to get right back to the business of firing the homemade rockets that infuriate the Israelis.
But in the early part of the week, Islamic Jihad was stunned. As their teams set up rocket operations, Hamas gunmen came along and stopped them. Fatah never did that. Two such incidents were seconds away from turning into shootouts, according to Islamic Jihad fighters I talked to. In one case, IJ managed to get a rocket off before Hamas prevented them from shooting more. The Israeli military immediately responded with a limited airstrike on the area.
One "former" Fatah fighter told me that if Hamas and Islamic Jihad end up coming to blows, the situation would be far worse than the conflict between Hamas and Fatah.
"Islamic Jihad is much tougher (than Fatah)," he said. "A fight will not end fast. Islamic Jihad guys do not run like Fatah, and their leaders don't either. Lots of men have left Fatah and Hamas to join them because they don't want to fight anyone but the Jews. There are a lot more of them now than before."
On early Tuesday morning, the situation deteriorated in the southern area of Gaza near the Khan Younis refugee camp. At least three Israeli tanks and several bulldozers entered Gaza in what the IDF calls a "limited security incursion." Hamas might not have wanted a direct confrontation with Israel this week, but that couldn't go unanswered. So, teams of Islamic Jihad, Hamas, and other aligned militant groups attacked. By some reports, they lost seven men, wounding a single Israeli soldier.
At the funeral for the Hamas men later that day, the furious mourners called for revenge. Seven militants is a lot to lose, and it means that a lot of families—key to Hamas' political support—are calling for immediate action. Local politics might motivate Hamas to keep things calm, but the organization's full name means "the Islamic Resistance Movement." They didn't get that moniker because they're fond of negotiating. Unless they can start paying salaries to all their men, a challenge with sanctions in effect, resistance is probably all they can offer.
Overnight, five or so rockets fell into Israel, wounding two Israeli civilians. In all likelihood, the IDF will respond soon, which will force another response from Hamas or IJ.
And if this comes, all the nice young men in beards and bright safety vests offering civil protection won't make up for an escalation that further punishes the strip. And now there is no moderate Fatah organization to try to put the brakes on a situation that threatens to spiral out of hand, because the Israelis never talk to Hamas. The stage is being set, and it's not clear if anyone on either side could stop the progression of violence, even if they wished to.
---