Like many Cabinet agencies, the Justice Department has a press office that circulates a daily internal memo anticipating troublesome news stories and instructing agency employees how to spin them. A sample report from late February (see below and on Page 2) enunciates that day's party line on ousted U.S. Attorney David Iglesias. (Note that several other items were removed from this memo before it was made public.) The memo's author establishes his or her partisan bona fides by referring to "Democrat lawmakers" rather than "Democratic lawmakers."
The previous month, Monica Goodling, then counsel to Attorney General Alberto Gonzales, wordlessly forwarded an article that appeared in the San Diego Union Tribune about departing U.S. Attorney Carol Lam ("Lam Stays Silent About Losing Job"). Goodling sent the story via her home e-mail account (it was a Saturday) to her immediate boss, the attorney general's then chief of staff, Kyle Sampson, and to a few other high-ranking officials in the department. (See Page 3.) Lam, who had won a corruption case against Rep. Duke Cunningham, R-Calif., the year before, was not yet commenting publicly about being forced to resign. Privately, however, she'd spoken with her friend Dan Dzwilewski, who'd led the Cunningham investigation for the Federal Bureau of Investigation's San Diego office. Agent Dzwilewski, a decorated FBI veteran, had then told the Union Tribune, "I don't think it's the right way to treat anybody … I feel Carol … has done an excellent job given her limited resources." Dzwilewski had said he was concerned about the disruption of ongoing cases, including the about-to-be-announced resolution of the bribery case against CIA official Dusty Foggo. He'd also speculated that Lam had been politically railroaded ("I guarantee politics is involved").
Sampson forwarded Goodling's e-mail to Lisa Monaco, special counsel to FBI Director  Robert Mueller  (Page 4), with terse instructions to "bring to the Director's immediate attention the comments" of this insolent G-man. By 6:15 that evening (Page 5), Mueller had ordered deputy director John Pistole to reprimand Dzwilewski. Three months later, Dzwilewski, a 27-year employee, "retired" from the FBI to work security for an energy firm. Asked whether Dzwilewski's retirement was a result of his comments about Lam, an FBI headquarters spokesman told the Union Tribune he had "no comment."
Got a Hot Document? Send it to documents@slate.com. Please indicate whether you wish to remain anonymous.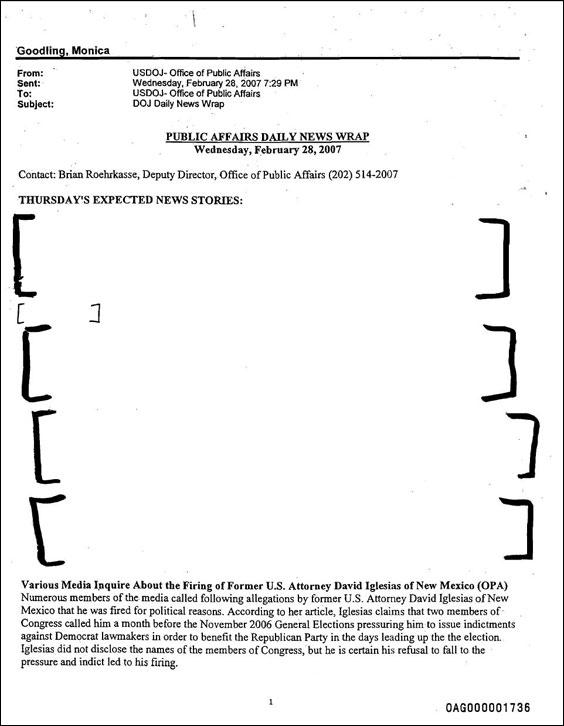 ---